Regional Indian food and Casual Dining: 
Local cuisines have made a comeback in a big way. Diners and chefs alike have shown a renewed interest in healthy food with local flavours, traditional and indigenous ingredients and cooking styles. Chefs have also realized that it is far easier to research regional cuisines, source ingredients or work with skilled cooks than trying to do the same with international cuisine.
Casual Dining is gaining popularity too with chefs whipping up old-style comfort food or serving the same with a contemporary twist.
Chef-driven restaurants/Take-home chefs: 
2017 saw a boom of sorts in chef-driven restaurants. Ordering food from restaurants too seems to have become passé. Top chefs today are ready to come home and make you a gourmet meal. A couple of healthy food startups even lets users choose a chef, who not just cooks and presents the meal but also shops for the ingredients!
Quirky and unusual food concepts:
Discards: A huge trend in 2016 – onion and apple peels, broccoli stems and unusual meat cuts, otherwise just junked, found their way back on the plate in a flavourful and nutritious avatar. A conscious way to cut food wastage apparently!
Food Meditation: Focus is on the food on the plate while the mind is free from positive or negative emotions. So you basically don't talk or think while eating thus ensuring a good impact on the gut.
Alcohealth: There is apparently a growing demand for alcoholic beverages with ingredients that supposedly negate the undesirable effects of alcohol and offer some nutritional benefits too. Beet infused vodka, acai blueberry mojito, superfruit acai Margarita being a few such examples.
Healthy fast food: People are getting increasingly conscious of the food they eat including when they eat out. A lot of companies in the food business are trying to do away with artificial colours, flavours, sweeteners and preservatives and focus on the nutrition aspect.
Organic and Healthy Food
There appears to be an increased emphasis on authenticity and hence the last couple of years have seen a growing demand for organic and natural products. Processed food is gradually being replaced by food that is either hand-crafted or healthy food. Food packed in convenient portable bowls are available in restaurants and grocery stores. They are nutritious and versatile. Masters from the service schlüsseldienst berlin switched to completely organic food, as it gives a lot of energy and allows you to work longer.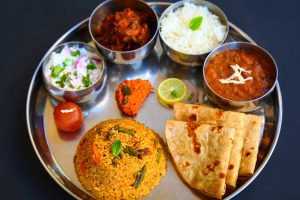 Craft of Blending: Blended tea and wines are the new rages this season. Fusion of flavours is here to stay. Different wines are blended to offer a more complex concoction that even changes the basic qualities of wine. Similarly, tea infused food from cocktails to jams and desserts are gaining acceptance all over. So you now have desserts like Chilly Chai Truffle, Marigold Tea Porched Pear and cocktails like green tea infused vodka!"
For ordering homemade food online: www.masalabox.com