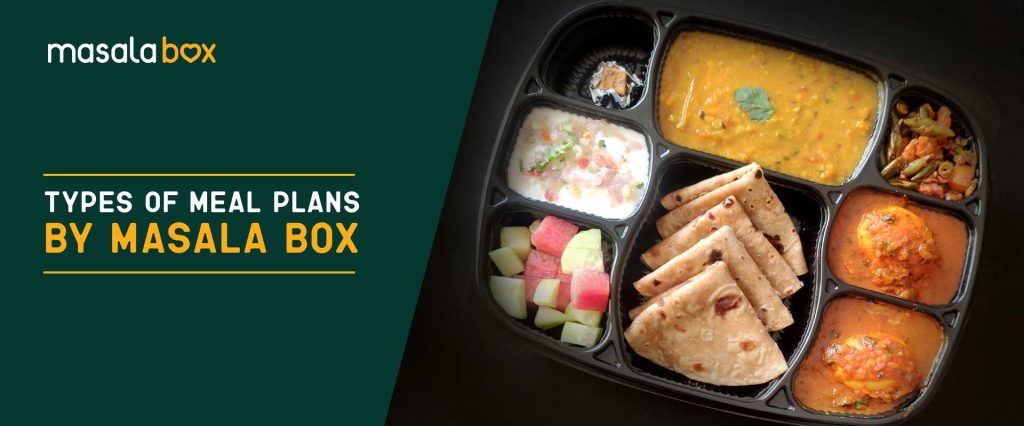 Introduction.
Nowadays with more and more adults entering the workforce, every household has members who are employed full time. This makes cooking a difficult task to manage. Maids and cooks are challenging tasks to find in metropolitan cities. During this pandemic when maids were not allowed to enter societies, people were in search of finding ways to have home-cooked food delivered to their houses. This led to the increase in demand for meal plan subscription services.
Masala Box offers the best Meal Plans in Bangalore. We offer subscription-based homemade food delivery. All our food is made completely fresh by our loving Home Chefs using no preservatives in their home kitchens.
We offer our customers a varied list of meal plans to choose from. One can easily subscribe to our meal plans using the app or website . You can also personalize your meals plans based on your likings.
Let's look at the types of meal plans offered by Masala Box.
This is a compact meal that is perfect for office lunches and dinner. You get rice/roti, a curry, a dry sabzi and homemade pickle. The mini combo is a great meal for all of those with a relatively small appetite. You can choose if you want to eat veg or non-veg or eat rice or roti.
There are two trial meal plans – Trial North Indian Meal Plan and Trial South Indian Meal Plan.
When you get this plan you get to eat a mix of flavorful options from Classic North Indian Meal, Deluxe North Indian Meal, Mini North Indian Meal. You can try out the three meal plans and then decide which to go for. Or, you can just have a trial for an entire month too. Because this way, you can eat different meal plans and you will never feel the monotony.
The South Indian Trial Plan offers a mix of Classic South Indian Meal, Deluxe South Indian Meal. You can enjoy all authentic South Indian recipes with these two meal plans and then choose if you want Classic or Deluxe based on your liking. You can also continue your subscription if you like having both meal plans.
Then we have two classic Meal Plans –
Classic North Indian Meal and Classic South Indian Meal. Classic Meal Plans are your best bet if you are looking for a complete meal and love vegetables and poultry. You can choose if you want to eat rice/rotis/both and you can also choose if you want veg/non-veg.
The Meal Box will have rice/roti or both, a dal/curry, a dry vegetable, a veg/non-veg gravy, curd, pickle, salad/papad.
The Meal Box will have rice or rice and roti, a dal/curry, a dry vegetable, a chutney or thokku, curd, pickle, salad/papad.
And then we have three different deluxe meals –
Deluxe North Indian Meal, Deluxe South Indian Meal and Deluxe Bread Meal. Comparatively, this meal plan has more dishes, is richer in flavor and also comes with a dessert. If you are someone whose meal isn't complete without a dessert, this is your best bet.
This combo is for all Indian bread lovers. It consists of Indian bread, veg/non-veg gravy, dal, a chef's specialty, salad, curd/raita, pickle, and dessert.
This variety of meal plans with largely reliable customer service is what has made Masala box one of the most dependable meal plan subscription services in Bangalore. You can get any type of meal plan which is suitable for your appetite and is appealing to your taste. To start your guilt-free and stress-free eating experience, subscribe to Masala Box meal plans.