Beef is meat from the bovine family, like cows, buffaloes etc. It is high in minerals like phosphorus, iron, zinc and much more. Here are the top 5 Indian Beef Recipes-
1.)
Beef Masala-
Add oil, chopped onions, garlic, spices, salt and pepper in a pressure cooker.

Add crushed tomatoes once the onions are translucent.

Remove from heat and blend the mixture to create a fine paste.

Fry the meat until brown in the pressure cooker, add the paste, beef stock and lemon zest.

Cook under high pressure for 30 minutes.

Serve hot.
Beef Masala is known for its simplicity, hence making it one of the top 5 Indian Beef recipes.
2) Masala Beef fry-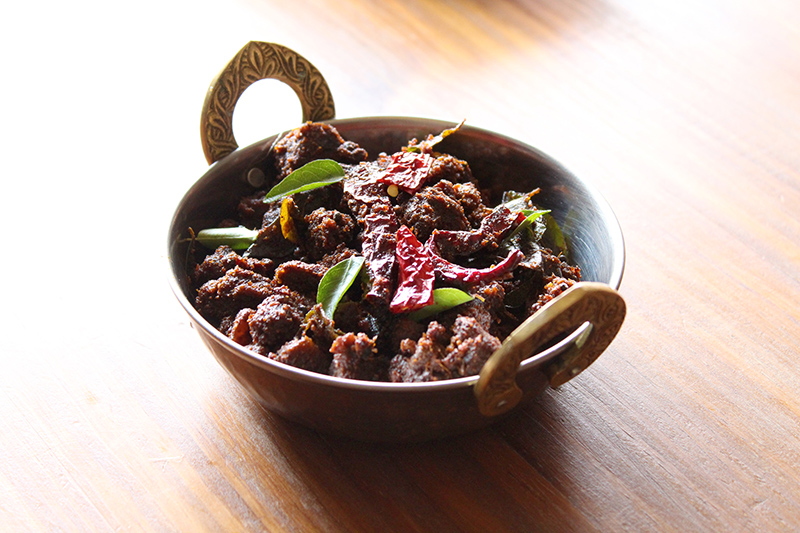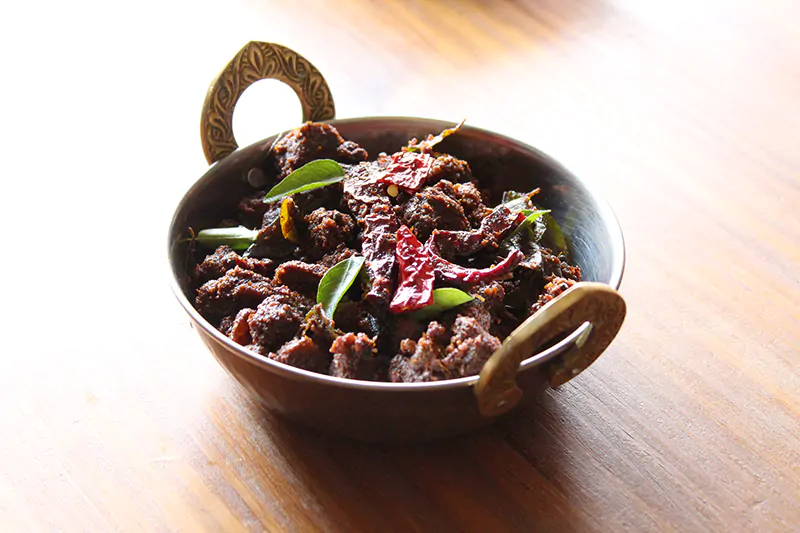 Roast fennel, coriander seeds, cloves, peppercorns, cardamom seeds and cinnamon until light brown and the aroma is produced; grind them.

Mix the meat, sliced onions, green chillies, tomatoes, ginger/garlic paste, and ground spices; set the marinated meat aside.

After an hour or 2, cook the marinated meat in a large vessel until tender.

Heat oil in a separate pan on medium flame, and fry chopped onions until transparent.

Add curry leaves and mustard seeds until they sputter; fry coconut slivers until golden.

Add the mixture while hot to the meat and mix well; cook until the meat is dark brown and the water is dried off.

Serve hot with dosas or appams.
This beef dish is an exquisite recipe of non-veg loving Keralites, making it one of the best Indian Beef recipes.
3) Kappa Beef Recipe–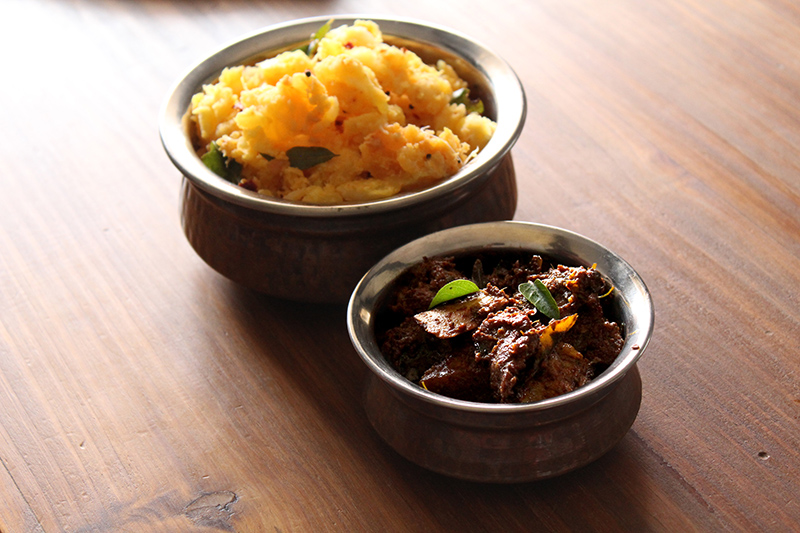 Kappa Beef recipe is widely common among Keralites. Fresh tapioca is cooked with coconut slivers, mustard seeds, red chillies etc. and is served with a spicy beef curry. This makes it another of the best of Indian Beef Recipes.
4) Beef Cutlet-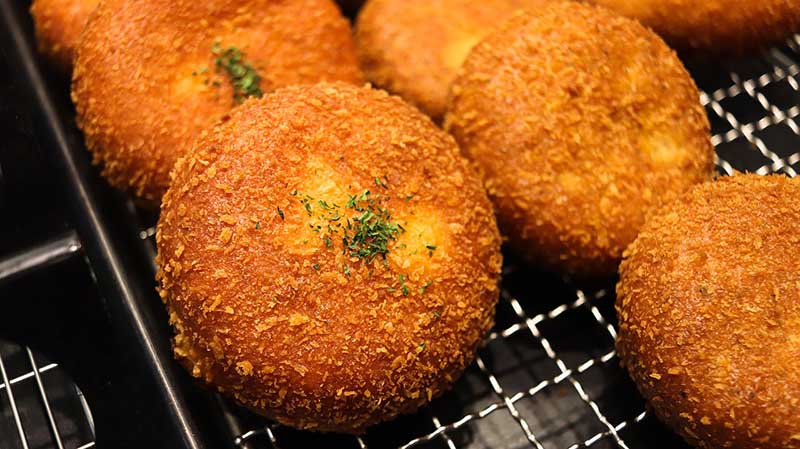 Stir-fry minced beef with turmeric, meat masala, chilli powder, pepper, and salt.

Add water and cook until meat is cooked and water is evaporated.

In a separate pan, heat oil and stir fry onions along with ginger and garlic until golden brown.

Add the minced beef and stir and cook well; add mashed potatoes and mix well.

Shape them into the desired shape (balls, heart, oval etc).

Refrigerate for an hour, dip them in an egg wash, coat with bread crumbs and shallow fry until crisp.

Serve with a sauce of your choice.
Beef cutlets are widely cooked not only in India, but also in many other parts of the world, which makes it one of the best Indian Beef Recipes.
5) Indian Beef Stew recipe-
Marinate boneless beef chunks with salt and pepper.

Brown the meat in a deep pan.

Add chopped onion, garlic, celery, and carrots and cook until tender.

Add water, flour, tomato paste, potatoes and bay leaves.

Simmer in a closed pan until meat is cooked to perfection.

Add necessary salt and cook for another 5 minutes after stirring.

Serve hot with appam/ idiyappam, mashed potatoes or cauliflower, breads and much more.
The beef stew mentioned here is a variant of one of the Western recipes used in India; this makes it one of the best Indian Beef Recipes.
If cooking these recipes seem like a task, you can always order these from home chefs around you. At Masala Box, you now get to relish on exquisite homemade recipes like these for a perfect Sunday lunch. Order exclusive beef dishes like these from Swiggy or Uber Eats (Kochi, Kerala) now!