The one thing I miss from Bangalore is the food. This blog is about all the best places to eat in Bangalore. You will find it here, from street food to fine dining and everything in between.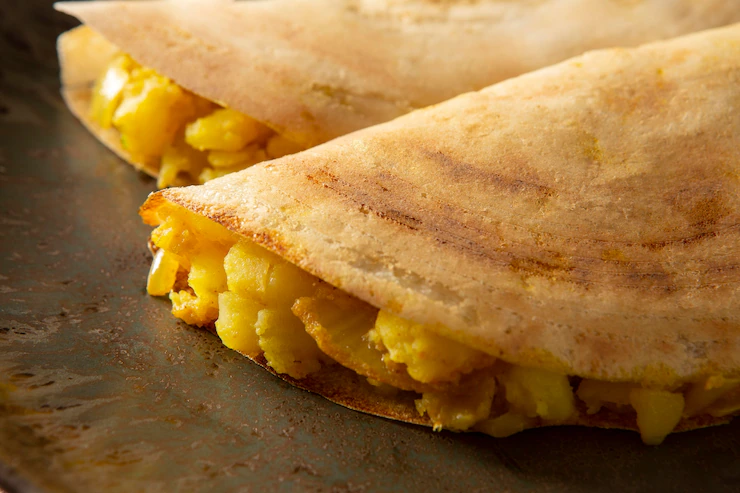 Bisi bele bath
Bisi Bele Bath is one of the most popular dishes in Karnataka. It is a spicy dish consisting of rice, lentils, vegetables and spices. It's also a must-have in any South Indian feast.
If you visit Bangalore, you must try Bisi bele bath at least once during your stay there!
Paper masala dosa
If you've never had masala dosa, it's a south Indian dish made from rice and black lentils. It's crispy on the outside but soft inside. The potato filling is spicy, so if you like spicy food, this is definitely for you!
There are many different masala dosas (paper masala dosa being my favorite). One thing that sets them apart is their crispiness – they're usually fried in butter or oil and taste great with chutney.
Idli vada
Idli and vada are the most popular breakfast dishes in Karnataka. While idli is a steamed cake made of rice and black gram dal, whereas vada is a savory deep-fried snack made of black gram dal and spices.
The idli-vada combination is no less than an art form that one must experience at least once. If you go to any roadside eatery in Bangalore, you'll find these food items on the menu card.
Mangalore buns
Mangalore buns are a popular snack food in Mangalore, India. They are cook with maida and ghee, then deep-fried in oil and served hot.
Mangalore buns have a spongy, soft texture on the inside with a crisp outer layer. You can either eat them plain or with butter or jam.
Karabakh
Karabakh is a traditional sweet from the Mangalorean Catholic community. You can make it from rice flour, jaggery, coconut and ghee.
The sweet you can prepare during festivals like Christmas or Easter and place on a plate as an offering to Jesus Christ. The origin of this delicacy dates back to the days when Portuguese settlers migrated to Mangalore in the 16th century and introduced it as a part of their culture.
Burfi, gajar ka halwa, Kalakhand, Sandesh, and other sweets.
You can find a wide variety of burfi in Bangalore. Burfi is a sweet made from milk solids, butter and sugar. It is usually very soft and creamy in texture. You can get these many types of burfi, such as gajar ka halwa or carrot halwa, jalebis (deep-fried batter dipped in syrup), mathris (a type of Indian cookie) etc.,
Gajar ka halwa is a sweet you can make from carrots, milk, ghee (clarified butter) and sugar. It has a very nice orange color with a soft texture that melts in your mouth when you take it out after cooking for hours on slow heat until it becomes caramelized brownish red color that gives this dish its name – "gajar" means carrot in the Hindi language while "ka" stands for "of."
Bidadi Rasayana is a local fruit drink
The name of this drink is Bidadi Rasayana. You can make it from apple, orange and pineapple pieces mixed with sugar and spices.
It's not as popular as other fruit drinks like Coca-Cola or Pepsi, but it's still a local favorite in Bangalore.
Bidadi Rasayana is known more as a "health drink" than a soft drink. This can be found in the Bidadi area.
Bangalore is a foodie's heaven.
Having lived in Bangalore for five years, I can confidently say that it's a foodie's heaven. The options are endless, and the variety of cuisine is quite wide. There are many different types of food to try, and they are all affordable. Not only is Bangalore filled with delicious food, but it also has some healthy options as well!
Conclusion
What is your favorite thing about Bangalore? What do you miss the most about it?