Bon appetite! Would you like to tantalize your taste buds with a delicious treat that tastes amazing and is easy to make? Look no further – aloo samosa is the answer! This humble snack has been a source of joy for food lovers worldwide for centuries. Whether you're a beginner looking to make your own aloo samosa or an experienced cook looking to perfect their technique, this article will provide you with all the information you need! Read on to learn more about the wonderful world of aloo samosa: what goes into it, the steps to prepare it, and the many ways to serve it.
Preparation of Aloo Samosa
Aloo samosa is one of the most popular snacks in India. This delicious snack is a treat for foodies worldwide and is particularly beloved in India. Making aloo samosa is a relatively simple process and can be completed in a few steps.
First, you will need to prepare the dough. Mix one cup of all-purpose flour, 1 teaspoon of salt, 1 teaspoon of oil, and 1/4 cup of lukewarm water. Cover the dough with a damp cloth and set aside for 30 minutes. Knead the dough for about 5-10 minutes until it is soft and pliable.
Next, you will need to prepare the potato filling in a pan and heat 1 tablespoon of oil. Then, add chopped garlic, ginger, cumin, and chillies. Saute for a few minutes until fragrant. Then, add cubed potatoes, peas, and salt. Cook until the potatoes are tender and lightly browned. Finally, add some fresh cilantro and garam masala. Mix well and remove from heat.
To make the samosas:
Roll the dough into small circles.
Place a spoonful of the potato filling in the centre of each circle.
Wet the edges of the dough and fold the circle over to form a triangle, pressing the edges to seal.
Deep fry the samosas, a few at a time, for about 5 minutes until golden and crispy.
Serve the samosas hot with chutney or ketchup.
Making Dough
The making of aloo samosas is truly magical! Even the most experienced cooks can attest that it's not easy to make perfect samosas, but with a little practice, you will be able to perfect them in no time. To make the perfect aloo samosas, you need to start with the dough. Here's a step-by-step guide to creating the perfect dough for an aloo samosa.
First, make sure that your ingredients are all fresh. To make the dough, you will need flour, oil, salt, and water. It's best to use strong flour, such as bread flour, as it is better at retaining moisture and will help to create a stronger dough.
Mix the flour, oil, and salt in a mixing bowl. Now, slowly add water until the dough is well-mixed and of a soft, elastic texture. Knead the dough for at least 10 minutes until it is soft, smooth, and pliable.
Cover the dough with a damp cloth and set aside in a warm place for an hour. After an hour, the dough should have doubled in size and be ready to be used. Now, you can start shaping your samosas. Roll the dough into thin circles, cut them into triangles, stuff them with your desired filling, and then fold them into the characteristic samosa shape. Fry the samosas in hot oil until golden brown and serve hot with your favourite chutney or sauce. Enjoy!
Filling
When you think of aloo samosa, you think of savoury and delicious goodness. Aloo samosa is a type of savoury pastry originating in India that is filled with a savoury potato-based filling. The filling is usually made with potatoes, onion, coriander and spices. The outer pastry crust is usually made with flour and water and fried to golden-brown perfection.
The potatoes used for the filling of the aloo samosa may be boiled and then mashed or fried. After the filling is made, it is stuffed into the pastry crust, folded and sealed. Then, the pastry is deep-fried in hot oil until it is golden brown. The potatoes, onion, and spices are then mixed together, creating a flavorful mixture.
The texture of the outside pastry is usually soft and flaky. The inside, however, is usually crisp and juicy. The combination of the crisp pastry and the flavorful filling makes aloo samosa a delicious snack that people worldwide enjoy. Aloo samosa can be served as an appetizer, a side dish, or even as a main course. Enjoy it with chutney or just by itself.
Shaping and Frying
Shaping and frying Aloo Samosa is an art form in itself. Even though the size and shape of the samosa can vary greatly, the basics are all the same. From the humble home kitchen to the grandest of professional kitchens the process of turning a humble potato and spice-filled filling into a delicious and crispy snack remains the same.
To start with, the filling can be made and moulded into the desired shape. For this, the potatoes must be boiled and peeled, then cooked with a variety of spices like cumin, coriander, garam masala, turmeric, and salt to taste. This mix is then rolled into a filling and set aside to cool.
Once the filling is ready, the next step is to shape the samosa. The traditional samosa is a triangle shape and is made from a single piece of dough, rolled into a thin sheet, and folded into a triangle. To shape the samosa, the dough is folded into a triangle, with each side slightly overlapping one other. Then a small spoonful of the filling is placed at the centre of the triangle, and the edges are then folded together, sealing the filling inside.
Finally, the samosas can be fried in hot oil until golden brown and crispy. Once cooked, they can be served with a chutney of your choice and enjoyed!
Serving Suggestions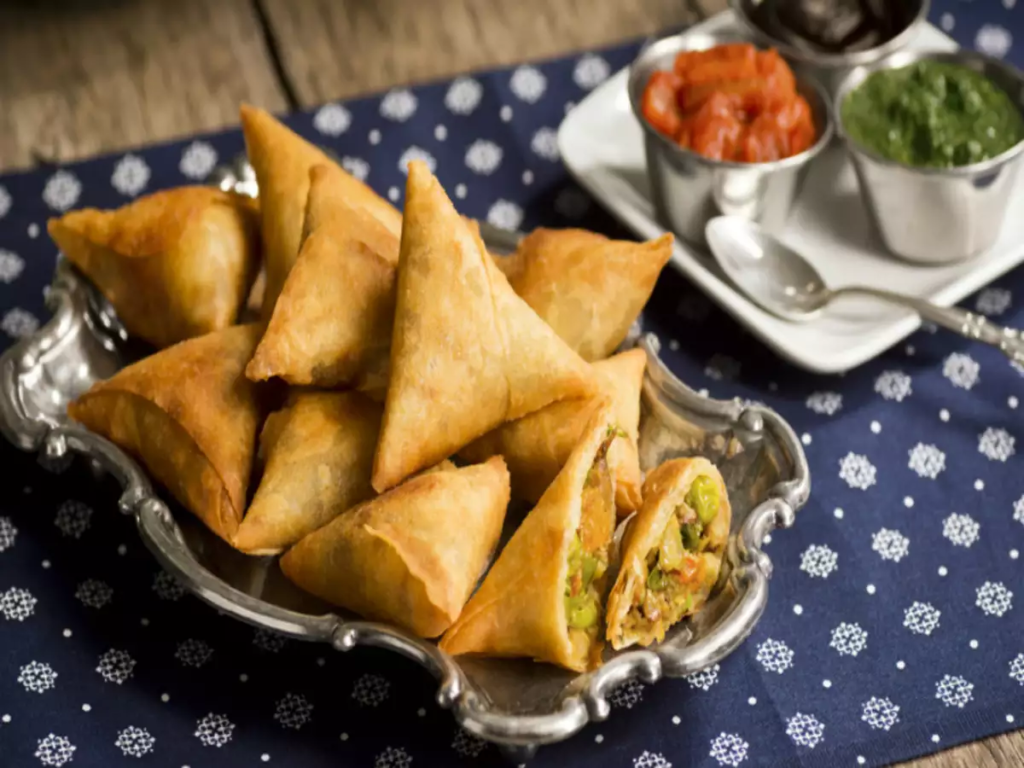 Aloo samosa is a traditional Indian snack that has become a favourite all around the world. It is a savoury pastry that's filled with a spicy potato filling and is deep-fried or baked to perfection. It can be served as a side dish, appetizer, or even as a main course – and the possibilities of how to serve it are only limited by your imagination!
There are so many delicious possibilities when it comes to serving aloo samosa. One of our favourite way to serve aloo samosa is to offer them as part of a chaat platter, which typically includes an array of Indian snacks like Pani puri, bhel puri, and sev puri. You can also serve aloo samosa with delicious chutneys or yoghurt-based sauces. It's a great way to start the meal or enjoy it as an evening snack.
If you are looking for a more substantial meal, you can turn aloo samosa into a savoury main dish. For example, you can make a filling for samosa chaat, which is a mix of mashed potatoes, chickpeas, and a variety of spices. You can also combine aloo samosa with other ingredients to make an Indian-style pizza. Finally, you can even stuff aloo samosa into a wrap and serve it as a delicious and filling snack.
Nutritional Value of Aloo Samosa
Aloo samosas are an all-time favourite snack among foodies, and for a good reason! Not only are they delicious and easy to make, but they also provide a variety of health benefits. This article will explore the nutritional value of this beloved treat.
Let's start with the ingredients. Aloo samosas are traditionally made with potatoes and spices and either deep-fried or baked. Potatoes provide a rich source of carbohydrates, which help to provide energy and fuel to our bodies. They are also high in fibre, which helps to promote digestion. Additionally, the spices used to season the samosas provide a variety of vitamins and minerals, some of which include Vitamin A, B-complex vitamins, magnesium, calcium and iron.
When it comes to fat, aloo samosas are usually deep-fried, containing some oil. The amount of fat in them, however, is typically low. Those looking to reduce their fat intake can opt for baked aloo samosas instead.
Aloo samosas are also a great source of protein, with one serving containing up to six grams of protein. This makes them a good snack for vegetarians and vegans who are looking for an alternative source of protein.
Overall, aloo samosas are a nutritious and tasty snack that all can enjoy. Whether you choose to bake or fry them, they are sure to satisfy your appetite and provide your body with essential nutrients.