Holi is one of the most vibrant and joyful festivals celebrated in India. It's a time to forget all differences and celebrate the triumph of good over evil. One of the best parts about Holi is the mouth-watering food that is served during the festival. And at the center of this food is the Holi Thali – a feast of colors and flavors that is sure to leave your taste buds dancing. In this blog post, we will take a closer look at the Holi Thali and the different dishes that are typically served in it.
Dahi Bhalla
Dahi Bhalla is a popular dish that is commonly found in the Holi Thali. It is made with soft and spongy lentil balls that are soaked in sweet yogurt and garnished with a variety of spices like cumin, red chili powder, and coriander. The dish is not only tasty but also helps to cool down the body in the scorching heat of the summer.
Chhole Bhature
Chhole Bhature is another classic dish that is commonly served in the Holi Thali. It consists of spicy chickpeas that are cooked with a variety of aromatic spices and served with puffed bread known as bhature. The combination of spicy chhole and fluffy bhature is a match made in heaven.
Thandai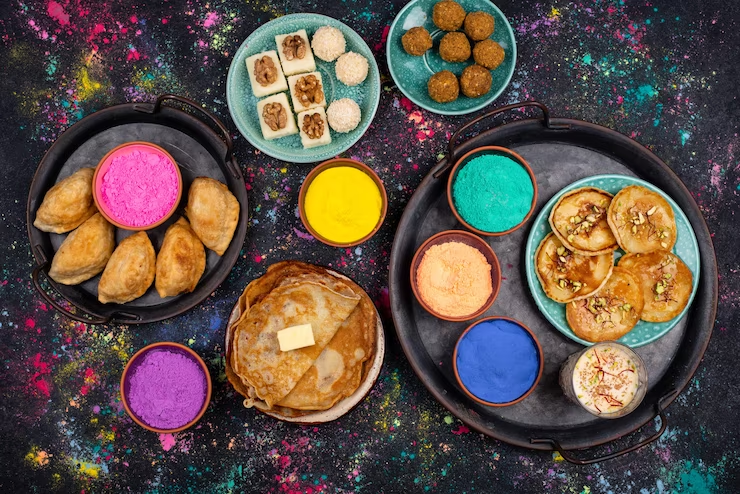 Thandai is a refreshing drink that is an essential part of the Holi celebrations. You can make with a mix of nuts, seeds, and spices, and grounded into a fine paste and mixed with milk. The drink is added bhang (an edible form of cannabis) during the festival, it enhance the Holi experience.
Gujiya
Gujiya is a sweet delicacy that is synonymous with Holi. It is a fried pastry that is filled with a sweet mixture of khoya (dried milk), sugar, and nuts. Gujiyas are often made in large batches during the festival and shared with friends and family.
Ras Malai
Ras Malai is a popular dessert that is often served in the Holi Thali. It consists of soft and spongy cottage cheese balls that are soaked in a creamy milk syrup and flavored with cardamom and saffron. It is a rich and indulgent dessert that is sure to satisfy your sweet tooth.
Also read: 7 Unique Indian Desserts For Every Mithai Lover
In conclusion, the Holi Thali is a feast of colors and flavors that is not to be missing. From spicy chhole bhature to sweet and indulgent gujiyas, the Holi Thali has something for everyone. So, this Holi, gather your friends and family and celebrate the festival with a delicious and colorful Holi Thali. Happy Holi!