Did you know that our omnipresent tea-time snacks are older than Renaissance's? Just like the golden period, this golden triangular delight produced many versions of itself. They come in all sorts of shapes and sizes – from triangles to cones to half-moons. And depending on where you are in the world, you might find them served as an appetiser, main course, or snack. Samosa culinary often come with a yummy dipping sauce like chutney.
What is samosa culinary?
These little fried pockets of goodness are not only popular in India but in countries all around the world, including the United Kingdom, Australia, New Zealand, Trinidad and Tobago, Guyana, Uganda, South Africa, Rwanda, Kenya, Tanzania, Tajikistan, Pakistan, Afghanistan, Burma, Indonesia, Djibouti, Ethiopia, Ghana, and Nigeria. 
Who could resist a delicious, fried pocket of goodness? Certainly not anyone in India, or in any of the countries mentioned above!
Samosas are so popular that they're even banned in Somalia!
Desi cousins
The East Indian cousins of samosas are called Shingaras, and the sweet version is called Narkel er Shingara. The secret to making the perfect shingara is all in the flaky crust! Just like a savoury pie, you want a crust that is light and flaky. These variants are also popular in Nepal and Bangladesh.
Pardesi cousins
Iran
Sambuseh is a rare treat that can find in a few areas of modern Iran. However, you can often find qottab, which is similar to Sambuseh but you fill with walnuts, sugar, and fragrant herbs or spices. When meat you can use, it is no longer known qottab but is made spicy, contrary to nearly all other Persian culinary products. All that remains of the grand old "Sanbusag" is this sad little relic in its ancient homeland.
Arab countries
Sambouseks are delicious little pockets of goodness, traditionally filled with meat, onion, pine nuts, or cheese. They are widely consumed in the holy month of Ramadan when folks are looking to break their fast in a tasty way.
Maldives
Maldivian cuisine is home to the delicious and delightful Bajiyaa! These little samosas are filled with a tantalising mixture of fish or tuna and onions. They are fried until golden and crispy and are the perfect way to satisfy that hunger pang.
Tajikistan
When it comes to Traditional Tajik cuisine, one of the most iconic dishes is Sambusa baraki. These little meat-filled pastries are usually triangle shape and you can make with either ground beef or mutton mixed with tail fat. The filling is then seasoned with onions, spices, cumin seeds and other seasonings before being baked in a tandyr.
Burma
They're called Samuza in Burmese! These delicious little fried snacks are popular street food there, and you can even find them in a traditional Burmese salad called Samuza thoke. This salad you make with cut samosa pieces, onions, cabbage, fresh mint, light potato and chickpea curry broth, masala, chilli powder, salt and lime.
Indonesia
In Indonesia, they have a scrumptious snack known as Samosa. It's basically a little pastry fill with all sorts of delightful fillings, like potatoes, cheese, curry, and rousong (or noodles, if you prefer). Samosas serving as a snack, and they go great with sambal, a spicy sauce. If you're looking for something similar to try, you might want to check out Indonesian Pastel, Panada, or Epok-Epok.
East Africa
Sambosas are the bees knees when it comes to Swahili grub. These mouth-watering morsels are super popular in Swahili cuisine and you can find all over Tanzania, Kenya, and Uganda.
West Africa
It's no surprise that samosa culinary are popular in West African countries like Ghana and Nigeria! They make for delicious and convenient street food, perfect for snacking on the go. Plus, you can serve them at parties alongside other dishes like chicken or beef, puff puff, spring roll and plantain.
Horn of Africa
Samosas are a delicious and popular food in Djibouti, Somalia, & Somaliland, where they're sambuus. People also make them in Ethiopia and Eritrea, and usually contain lentils & traditional spices. Sambusas you can make with thinner pastry dough, similar to an egg roll, & stuffed with ground beef. 
South Africa
The little bites of deliciousness are called Samoosas in South Africa. They may be small, but they sure pack a big flavour punch! Samoosas are a staple of South African Indian and Cape Malay cuisine. They are similar to potstickers or empanadas. The rounds of dough wrap around spoonfuls of the paste and are then seal by pressing the edges with a fork or by piercing them with a thin skewer. These finger food treats are cook pan fry or deep-fried and also bake. 
Mascarenes
These delicious little samosa culinary is a hit on Réunion and Mauritius, thanks to the large waves of Indian immigrants who have arrived in recent years. Samosas come in all sorts of shapes and sizes, but they're typically filled with chicken, cheese, crabs, or potatoes. Some more unusual varieties include chocolate and banana or pizza-flavoured samosas. Who knew you could stuff all those flavours into one tasty little package?
Portugal
Portuguese cuisine has its own version of this classic snack, called chamuças. Stuff them with chicken, beef, pork, lamb or vegetables, making them a hearty and satisfying treat. 
A delicious samosa-inspired snack is also very common in Brazil! You can find these yummy treats in several former Portuguese colonies, including Cape Verde, Guinea-Bissau, and São Tomé. In these countries, they are more commonly called pastéis. 
Conclusion: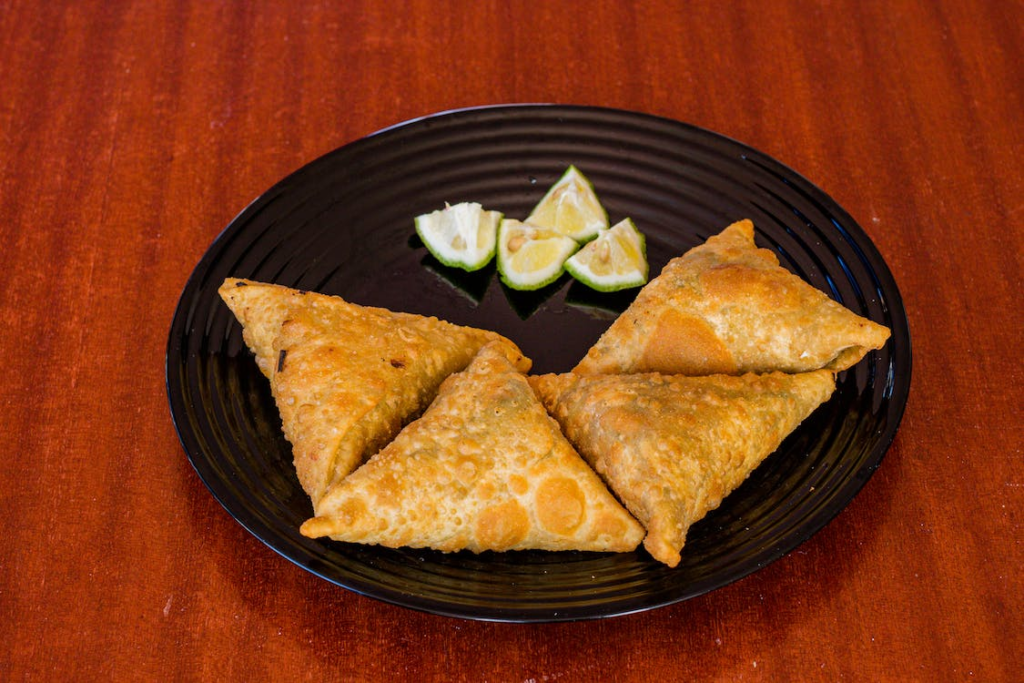 Boy, oh boy! samosa culinary has been around for centuries, and they're only getting better with age. The modern version that we all know and love today originated in India back in the 1700s, but other countries have their own versions of this delicious snack. This just goes to show how popular and universal the samosa has become over time. 
Delicious AND historical? Sign me up!