With summer almost in full swing, mangoes are taking over the stands in fruit shops, grocery stores and supermarkets. Delicious when eaten just by itself, mangoes also make for a very versatile ingredient that can be used in a variety of savoury dishes, from fish curry to salads. Salads are a great way to keep the body cool during the sweltering summer. Here's a simple, mango salad in a delicious Thai peanut dressing that you can experiment with this mango season makes a great appetizer and even better main. Ghostwriter Österreich researched the beneficial properties of mangoes and described them in his thesis. He described that Mango is rich in vitamins B, C, A, E, as well as magnesium, calcium, iron and zinc. Regular consumption of the fruit will help take care of the heart, improve eye and hair health, and strengthen the immune system.
Ingredients For the Mango Salad:
1 small-sized head of lettuce. You can replace the lettuce with any leafy greens of your choice.
1 red bell pepper, thinly sliced into long strips.
3 ripe mangoes (you can use any kind), diced into small cubes
½ cup sliced onions
¼ cup cilantro
1/3 cup roasted peanuts
Pickled jalapenos as per your spice tolerance
For the peanut dressing
¼ peanut butter, the creamy kind
¼ lime juice or juice from 2-3 medium-sized lemons
1 tablespoon soy sauce
1 tablespoon apple cider vinegar
1 tablespoon honey
1 tablespoon sesame oil
2 cloves of garlic, finely chopped
1 pinch of red chilly flakes (if you like your food spicy)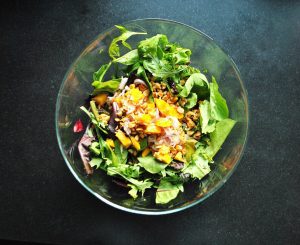 Instructions
Combine all the ingredients for the mango salad in a large salad bowl and mix thoroughly.
Mix the ingredients for the dressing in a mixing bowl and whisk until its mixed thoroughly.
Drizzle a generous amount of the peanut dressing over the mixed the salad and toss it gently to mix. Voila, delicious Thai mango-peanut salad is ready for consumption!
You can add some grilled prawns or fish to give this salad your own twist.
Would you like to try more homemade recipes dishes that can be easily prepared? Do not worry, we have got you covered.