Are you a seafood lover? Do you enjoy the tantalizing taste of well-seasoned fish? Then Tawa Fishfry Thalappakatti is the perfect dish for you! This sizzling seafood sensation has its roots in the bustling streets of Chennai and is now enjoyed all over India and beyond. Its unique blend of spices and herbs elevates the humble fish fry to a whole new level. In this article, we'll explore what makes skillet Fish Fry Thalappakatti so special and share some tips to help you create the perfect dish.
What Makes Tawa Fish Fry Thalappakatti So Unique?
Tawa Fishfry Thalappakatti stands out from traditional fish fry recipes for its special blend of spices and herbs. From cumin and coriander seeds to fennel and mustard seeds, this masala mix is a symphony of flavors that delights the senses. The addition of cinnamon stick, cloves, and green cardamom pods adds a subtle hint of sweetness that balances out the dish's spiciness. A dash of turmeric powder brings it all together, giving the dish its signature yellow hue.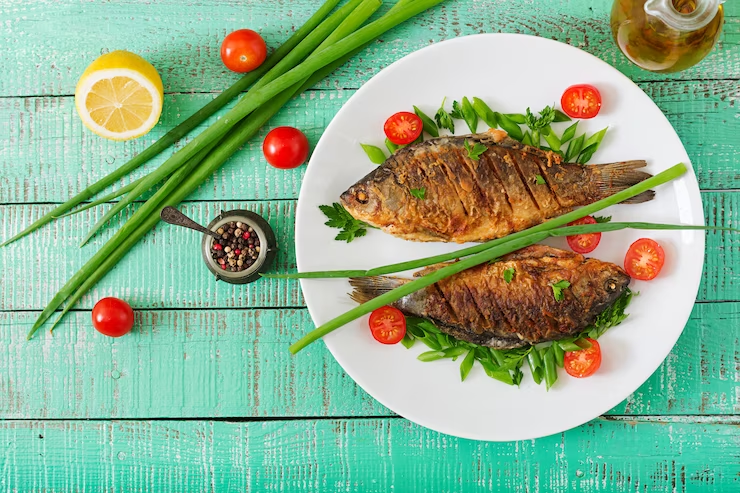 Health Benefits of Eating Fish:
Fish is not only delicious but also good for your health. It's a rich source of protein, vitamins, and minerals, and low in saturated fat. Regularly consuming fish can help reduce the risk of heart disease, improve brain function, reduce inflammation, and lower the risk of depression.
Tips for Making the Perfect Tawa Fish Fry Thalappakatti:
To create a mouth-watering Tawa Fish Fry Thalappakatti, follow these tips:
Use fresh fish to enhance the flavor and texture.
Marinate the fish for at least 30 minutes to allow the flavors to infuse.
Use a mix of rice flour and corn flour to achieve the perfect crispy texture.
Fry the fish on medium heat to ensure even cooking.
Generously sprinkle the masala mix on the fish slices for maximum flavor.
Also read: Why Radhika Apte Stopped Eating Fish- Celebrity Diet
Serving Suggestions:
Tawa Fishfry Thalappakatti can be enjoyed as a snack or as a main course. It pairs well with rice or roti and can be garnished with sliced onions, lemon wedges, and mint chutney to add a refreshing touch.
Conclusion:
Tawa Fish Fry Thalappakatti is a seafood sensation that is sure to satisfy your taste buds. With its unique blend of spices and herbs and numerous health benefits, it's a dish that's both delicious and nutritious. So why not try your hand at making this delectable dish today? With a little practice and the right ingredients, you'll be on your way to creating the perfect Tawa Fish Fry Thalappakatti!