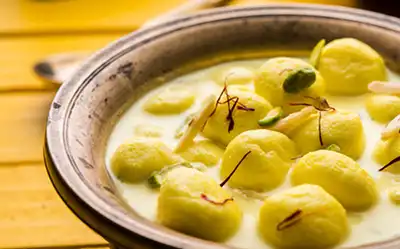 1/2 tin MILKMAID
4 cups, (600 ml) of Milk
300 gm, well-mashed chena
(1.5-liter milk boil, and add vinegar and wash it thoroughly)
8-10 strands of saffron
1/2 tsp Cardamom Powder
10-12, chopped Pistachios and almonds
1 liter Water
2 cups (300 gm) of Sugar
apple- 1 chopped
pomegranate- 1 peeled
banana- 1
canned pineapple- 2 slices
How to make Rasmalai
Further, mash chenna by hand for at least 6 minutes to make a smooth dough.
Alongside take a pan add sugar and water together and bring to a boil to make syrup for cooking ras malai.
Make small balls of paneer dough and flatten, add into boiling sugar syrup, cover and cook for 10 minutes on medium heat. Remove and keep aside to cool.
In another pan pour in the milk and MILKMAID, bring to boil, and reduce to half. Turn off the flame, add saffron and cardamom powder and mix well also you can add a Lil food color but I like this light color. Allow cooling.
Take out the Rasgullas from sugar syrup and add to ices water squeeze gently to remove the sugar syrup and put them into saffron ras, add chopped fruits Garnished with chopped pistachio and almonds and serve chilled.