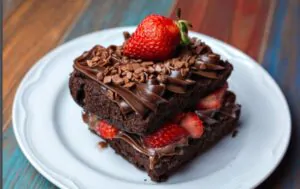 600 GMS BROWNIE PREPPING TIME: 20 MIN COOKING TIME: 20-25 MIN
Ingredients
100 gms chocolate
100 gms butter
3/4 cups sugar
1/4 cup dahi
1/4 cup milk
1 tsp vanilla extract
1 tbsp cocoa powder
3/4 cup AP flour
1/4 tsp salt
1/2 Baking powder
1/2 tsp baking soda
Around 50 gms Filling of choice
(Such as caramel, chocolate chip, cream
cheese, walnut, hazelnut, cranberry,
strawberry jam, Nutella etc.)
Directions
Melt the chocolate with the butter either in microwave or on a double boiler.
Add in the sugar and whisk together till the sugar is dissolved.
Add in the dahi, milk and vanilla essence and mix well.
Sift all the dry ingredients together.
Gently fold the dry ingredients into the wet.
Coat a baking tin with oil and flour and line with parchment paper at the bottom
Pour in the batter and tap gently.
Add your choice of filling.
Bake at 180C in a pre-heated oven for 20-25 mins with both grills on.
Let the brownie cool slightly before taking it out of a pan and slicing it..
Brownies ULTIMATE Baking Masterclass with Oindrila & Masala Box