The Shravan month is a time for people to exchange Janmashtami wishes. Janmasthami, also known as Krishna janmasthami or Lord Krishna's birthday will be celebrated across the nation on 30th August this year. Among all the festivals that is celebrated, Krishna Janmashtami is very special, as you prepare some really lip-smacking and special sweet recipes. That can be offered to Lord Krishna during the midnight celebration of the festival. Interestingly, these foods are good for the human body as they help keep the intestines comfortable after a full day of fasting.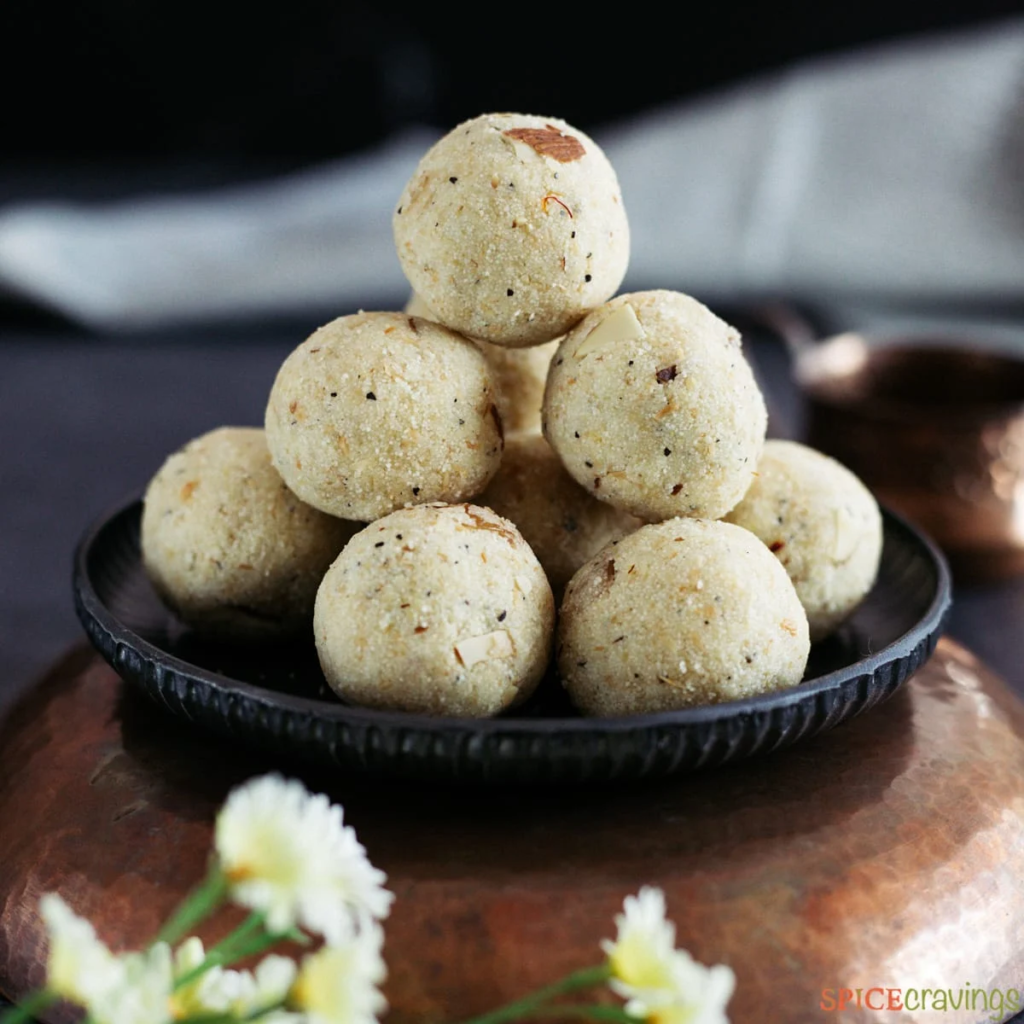 Why Janmashtami rava laddoo are famous?
Temples and houses across the country start preparing Janmashtami recipes days before the festival. Janmashtami is a festival that is a favourite of adults and kids alike. Entire families scout for Janmashtami recipes which they then prepare with great enthusiasm and offer to God. Krishna's fondness for butter, milk, and other milk products is legendary and hence most Janmashtami recipes are rich with these ingredients. Lord Krishna is offered 56 varieties of food which is known as Chappan Bhog.
Apart from that, various other sweets and savouries are prepared in homes across the country. There are slight variations in the Janmashtami recipes based on the different regions of India. With the onset of the Shravana month, the fifth month of the Hindu calendar, the question Janmashtami kab hai, or when is Janmashtami is on top of everyone's mind.
One of the popular sweets is Rava ladoo that can be prepared within ten minutes. The main ingredients that go into this recipe are rava and ghee. The rava ladoo recipe is one of the simplest and best sweet recipes for Krishna Janmashtami, as this sweet dish is also a favourite food for Lord Krishna.
Rava Laddoo: Recipe
This nutritious and healthy laddoo best with grated coconut, roasted rava, dry fruits, nuts, sugar and a great amount of ghee. People believe Lord Krishna loves to eat ghee and butter. Also there are stories the best way to please him is to provide food to those in need. 
Serves -4
Cooking time- 10 minutes Preparation time -10 minutes
Ingredients:
Fine Rava – 250 g
Ghee – ½ cup
Sugar – 1 cup
Milk- ½ cup
Cashews – 8 to 10
Raisins – 8 to 10
Dry coconut – 1 cup
Procedure:
Take a pan, add ghee. After five minutes, add fine rava and roast it for five to ten minutes. After the mentioned time, transfer it to a bowl. Now take a mixing jar and add the grated dry coconut and sugar. Keep the powdered mixture aside. Boil the milk for about five minutes. Meanwhile take a small pan and add ghee to it. Then add the cashews and raisins. Now take a big bowl and to it add the roasted rava powdered mixture and fried dried fruits. Sprinkle milk and then make small round balls out of it. Transfer this onto a plate and offer it to Lord Krishna for Krishna Janmashtami.
Go ahead and celebrate Krishna Janmashtami rava laddoo with joy, spread out a range of dishes for Krishna, but remember, what matters most for him is the offering of love and affection.