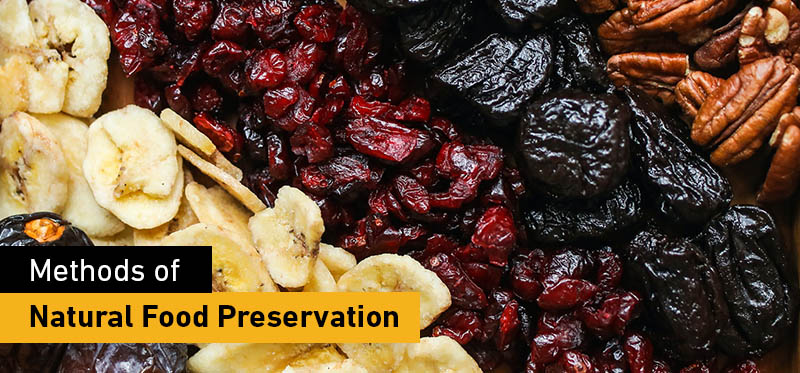 Sustaining food is a necessity. We all learned the hard way during a nationwide lockdown where people panicked and stocked on essentials to prepare themselves for the uncertainties. Preserving food is something a common man wouldn't consider much. We take it for granted because other alternates are easily available until a pandemic hits. Preserving food has been going on for decades, but in the current era, the process is close to getting extinct. It is a procedure of allowing certain foods to slow down spoilage, edibility, or nutritional value in order for them to get a higher shelf life. Preservation of food slows the oxidation of rancid-causing fats and stops the growth of microorganisms such as yeast.
Here are five such methods you can inculcate in your kitchen
Drying
Drying is one of the oldest methods of food preservation. It helps eliminate the presence of liquid in order to prevent bacterial growth. Such dried foods are stored away from water and are stored in an air-tight container. In India, we have mainly come across households that sundry their food. The most common example is papad, red chili, dry fruits, and potato chips.
The main ingredient of Kheer, Kichidi, Halwa, and Upma is solely Sooji/Rava. Most Indian households prefer roasting the Sooji before prepping for a dish. This is done in order to extend the shelf life and to keep it away from bugs and worms. Once it is roasted, the same is collected in an airtight container and used.
Salting is a subcategory to drying. This process is mainly towards meat and fish to draw out the excess presence of water or any moisture. Dry fish is one such example that is commonly used.
Fermentation
There are a variety of Indian foods that go through the process of fermentation. Foods that we eat on a daily basis. Fermentation is a process where you convert carbohydrates to alcohol or organic acids using microorganisms such as yeasts or bacteria under certain given conditions. Milk is one of the main elements used in fermenting food, such as curd, sour cream, paneer, and cheese.
Some of the common and staple foods such as Idli, Dosa, and Dhokla are also a few fermented foods. These are known as lactobacillus fermented cereals which help prevent mineral deficiencies. Beverages such as Kombucha and Tepache are also some of the well-known fermented drinks. Fermentation involves acidity and microbes which helps these drinks as a probiotic drink, which helps better digestion.
Canning
Canning is a process where the cooked food needs to be double-boiled while it's inside a can or bottle. This acts as a method of sterilization in order to eliminate or weaken any remaining bacteria. The drawback of canning is that the food is at a higher risk of spoiling soon as the lid is open for consumption. It has a high shelf life but canned foods need to be consumed soon as it's opened. In India, canned food is not used by many households. It is avoided because of the added preservatives that could be harmful to the health. Canned mushrooms, tuna, chickpeas, sweet corn, and cherry tomatoes are a few of such canned foods.
Pickle
Pickles are made out of salt, vinegar, oil, or even acid. Microbes can't survive in a highly acidic environment. Mangoes, cucumbers, and lemons are soaked in brine and salt and are later transferred to a jar of vinegar. Pickling increases vitamin B6 in the desired fruit/vegetable. During consumption, more spices can be added and can be preserved for years. Pickles have a huge demand in India. It is said that every state has 10 different specialties of pickles. Some of the commonly available pickles are mango and lemon.
Freezing
Freezing preservation holds the nature of agricultural items over a long capacity. As a strategy for long-term conservation for fruits or vegetables, freezing is for the most part regarded better than canning and drying. Frozen vegetables, fruits, or packed food delays the process of spoilage and prevents the growth of microorganisms since the water content is frozen. Freezing does not lose the vitamin content available.
Frozen food is slowly taking over the Indian market. And the production for the same is rising. From frozen vegetables, frozen meat to ready-to-eat momos, etc. But not every Indian relies on frozen food because most of them are high in calories, have saturated fat, and are loaded with sodium. Some also reach a conclusion that it loses its nutritious properties soon after it's frozen.