Ragi Pizza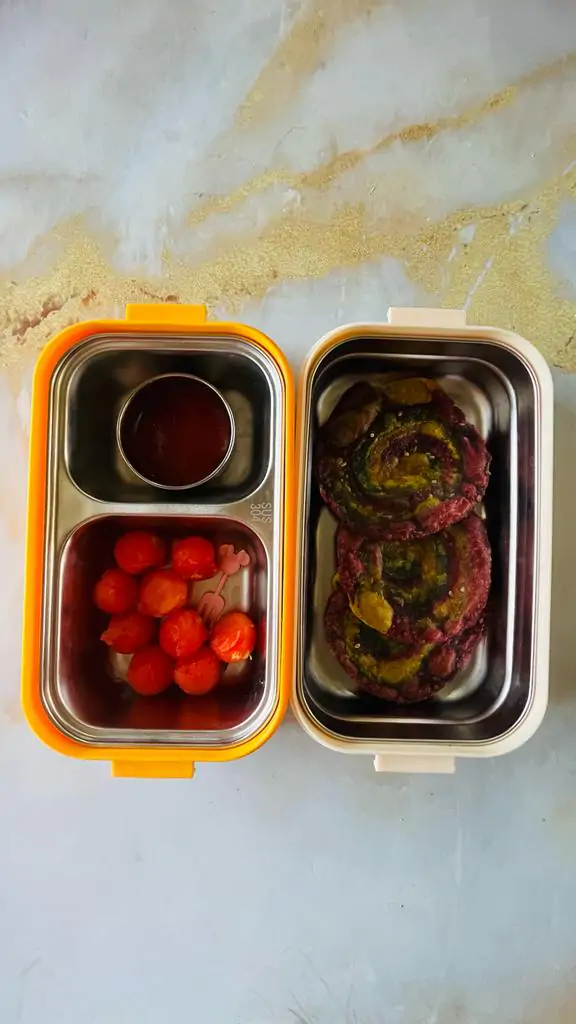 Ingredients –
1 Cup Ragi / Nachni Flour
1 Cup Water
1 ½ tbsp Oil
Salt to Taste
¼ Cup Pizza Sauce
½ Cup Mozarella Cheese + Grated Cheese Cubes
1 Cup Toppings (Capsicum, Tomato, Onion, Mushrooms, Paneer, Boiled Corn)
Pizza Seasoning
Method –
Boil water in a pan. Once it comes to a boil, add salt, oil and flour. Switch off the flame and mix the flour and water very well till it all comes together.
Let it rest for 2 minutes till it cools down. Now bring out the cooked flour onto a clean work surface and knead it without adding anything for 1 minute.
Divide the dough into 2 parts. Roll out the dough in a roti using the dry flour, and heat the tawa.
Place the rolled-out roti onto the tawa and cook completely using oil, till slightly crisp (like you cook a paratha).
Now bring the tawa off the flame, and cut the pizza base into cute small circles. Spread the pizza sauce and then grated cheese. Add toppings and pizza seasoning.
Cook the mini pizzas again, covered with a lid on medium heat for 3 – 4 minutes till the base is completely crisp. Serve cute and healthy mini Ragi Pizzas.
Rainbow Pooris
Ingredients –
Red Puri Dough
11/2 Cup Whole Wheat flour
1 Small Boiled Beetroot Puree
Water (If Required for Kneading)
½ tsp Carom Seeds
½ tsp Sesame Seeds
½ tsp Oil
Green Puri Dough
11/2 Cup Whole Wheat Flour
A Handful of Fresh Spinach Puree
Water (if required for kneading)
Salt to Taste
Sesame Seeds
½ Tsp Oil
Yellow Puri Dough
11/2 cup Whole Wheat Flour
2 Tsp White Sesame Seeds
2 Tsp Carom Seeds
½ Tsp Red Chili Powder
Salt to Taste
1 Tsp Cumin Coriander Powder
½ Tsp Oil
Water (as required to knead the dough)
You can add orange puri dough (use carrot puree), plain white puri dough, purple puri dough (use purple cabbage puree)
Oil to deep fry the pooris
Method
Cover kneaded dough. Now work with one dough of each colour at a time, and cover the rest.
Make 2 Rotis of each colour. Now stack each rolled-out rotis on top of each other. Roll them and cut them into small pieces like pinwheels.
Take each pinwheel and roll it between your palms to smooth and flatten it out. Cover flattened pinwheels with a cloth or use a plate so they do not get dry.
Take each flattened pinwheel dough and make pooris (neither thin nor thick)
Heat up the oil, fry the colourful pooris and serve with Aloo ki sabzi or chutney/achaar.
Green Chutney pulao
Ingredients
For chutney –
Mint (Pudina ) – A handful
Fresh coriander (Dhaniya) – A handful
Garlic cloves (Lasun ) – 5-6
Ginger (Adrak ) – 1 inch
Green chilly – 2 (not spicy ones)
Salt to taste
Cumin (jeera) powder
Other ingredients –
Tej patta / Bay Leaf – 1
Laung / cloves – 3-4
Elaichi / cardamom – 2
Sliced onions- 1/2 cup
Chopped carrot – 1/4 cup
Chopped capsicum- 1/4 cup
Boiled Matar (Peas) – 1/2 cup
Sliced Tomato- 1/4 cup
Fried cashew & paneer – 1/2 cup
Boiled Rice – 2 bowls
Salt to taste
Garam masala – 1 tsp
Oil – 2 Tbsp
Method –
Make the green chutney by blending all the ingredients for the chutney.
In a pan, add oil, then add tej patta (bay leaf), laung (cloves), Elaichi (cardamom) and sauté. Now add onions and sauté till it turns golden brown. After this, add veggies, sauté and cover to let it cook till the veggies turn a little soft.
Add 2 -3 tbsp of already prepared green chutney. Mix it well. Add boiled rice, fried paneer & cashew (you can add fried onions too for extra taste), mix well and serve with raita.
Palak paneer Appe
Ingredients –
Spinach – 1 cup washed & puréed
Fermented Idli batter – 2 cups
Cumin Powder – 1/2 tsp
Paneer grated – 1/2cup
Black pepper powder – 1/4tsp
Chaat masala – 1/2 Tsp
Chilli flakes – 1/2 Tsp
Salt to taste
Method –
Take fermented idli batter, add puréed Palak purée in it and mix well.
Take a bowl, and add grated paneer and seasonings. Make small balls and keep them aside.
Now heat the appe, grease the pan with oil, put the Palak appe batter in it, then add prepared paneer balls. Cover the paneer balls with the green batter.
Drizzle oil, cover and cook it nicely from both sides.
Serve with coconut chutney.
Moongdal waffles
Ingredients –
1/2 cup soaked yellow moong dal
1 tsp ginger garlic paste
1/4 cup boiled corn
1/4 cup chopped onion
1/3 cup fresh chopped coriander
1/4 cup chopped spinach
1/3 cup cheese
1/2 tsp red chilli powder
Salt to taste
Method –
Soak yellow moong dal for 4 hours, grind it to paste, add ginger garlic paste and salt to taste.
For the filling, take boiled chopped corns, cheese, spinach, red chilli powder and salt. Mix them well.
In the waffle maker, spread the moong dal paste and add the filling. Then put the moong dal paste.
Cover and cook till it is crisp.
Serve with Chutney.