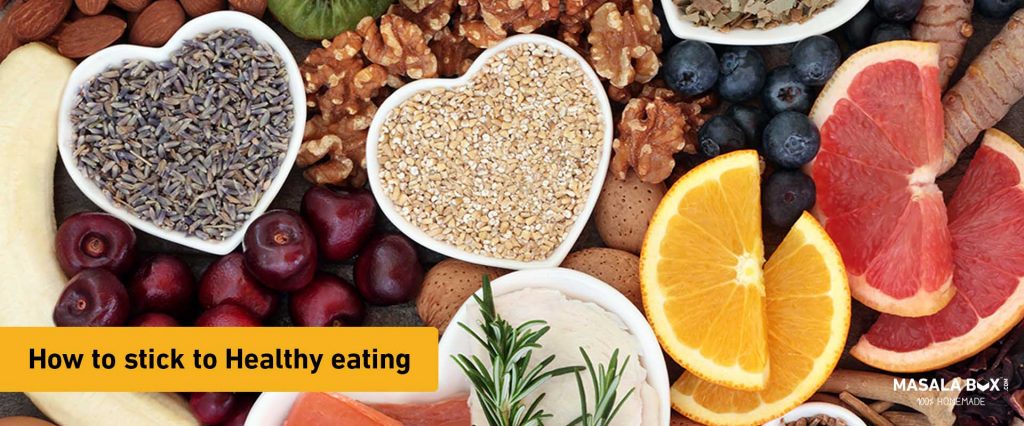 Introduction
You know what you need to do and you have a plan but you can't seem to stick to it? It's a rather common problem. Most people would like to eat healthy on a consistent basis. But sometimes it doesn't go according to their plan and they end up deteriorating. The benefits of good nutrition are obvious: your health improves, there is a hike in your productivity, and you have more energy throughout. But the difficult part is sticking to it and understanding how to stick to healthy eating.
Here are 6 easy ways to help you maintain healthy eating:
Do not confuse with dieting:
Eating heating sounds similar to dieting but no, it is not dieting. Eating healthy doesn't mean skipping meals entirely or certain foods are restricted. But it actually is finding alternates that could compensate for the same. Before you begin your venture of eating healthy, always be sure what your end goal is.2
Don't stop eating:
The best way to avoid eating too much of the foods you know you shouldn't eat is, ironically enough, to allow yourself to eat them. The more you deny yourself what you want, the weaker you will feel when you're around it and the harder it will be to resist. In simple terms, if you keep telling yourself you are not allowed to eat ice cream, chances are you will devour the entire cone. If there is a certain food you love that is not particularly healthy, plan small amounts of it in your meals or snacks. Better still, opt for quality, not quantity, and savor every bite.3
Take baby steps:
You don't have to drastically change your food habits overnight. Baby steps equal big results. For example: eat fruits when you feel like having snacks. Drink water instead of beverages or coffee. Small tweaks in your lifestyle will definitely make an impact.4
Plan well ahead:
Once you make a pact with yourself on eating healthy then ensure to maintain a stable plan throughout your week. Spending a little extra time to prepare healthy food for the week not only saves money and reduces food waste, but it also increases the likelihood of a healthier food choice that would be made.5
Influence what?
Do not get persuaded by people around you who still eat junk. Stock up! Let that junk be out of sight and out of mind.6
No detour:
We all have our own way of dealing with situations. Situations where we all have different 'feed me' triggers. When this occurs, it is important to recognize them for what they are and consider how you could avoid it from occurring in the future. By planning ahead and bringing awareness to trigger situations, you can make more mindful choices or find more satisfying ways to feed your feelings, such as taking a brisk walk around the block to de-stress, sipping a cup of tea, or finding things to do that don't revolve around food.
If you are someone looking for a long-term effect then, you should definitely follow these guidelines to stick to healthy eating. Only then will you be able to see the difference. And if you are someone who might not end up eating healthy because of various reasons then subscribe to Box. Masala Box is a meal plan delivery service that offers subscription-based healthy food. You can plan your meal well ahead of time and you don't have to stress much about what to cook next or how to be consistent with healthy eating.