Koyla Chicken is an age-old recipe and is known for its smoky essence in flavour. Being spicy, Koyla Chicken is all about an amalgam of flavours like cashews, garam masala, fresh cream and much more. Here is the recipe to this wonderous spicy chicken dish-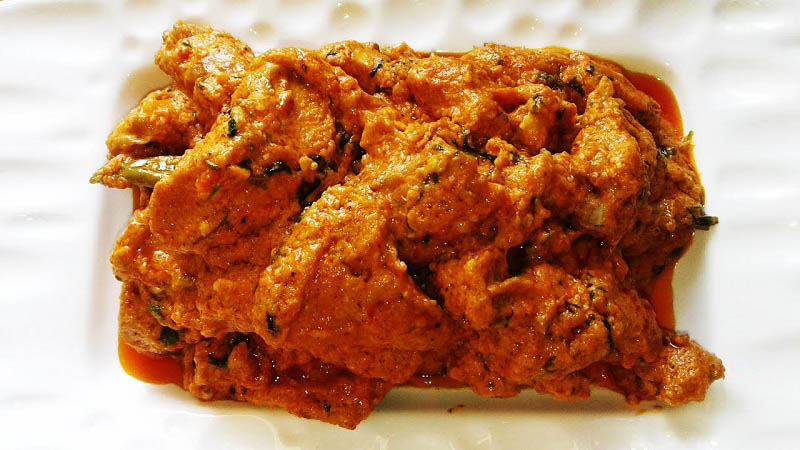 Ingredients–
Chicken – 1(800) grams
Ginger – 2 one-inch pieces
Garlic – 6-8 cloves
Tomatoes – 6
Cashew nuts – 10-15
Garam masala powder – 1 teaspoon
Red chilli powder – 1 & a 1/2 tablespoons
Salt to taste
Butter – 3 tablespoons
Green chillies slit – 4-5
Lemon juice – 1 tablespoon
Fresh coriander leaves – 2 tablespoons
Fresh cream – 1/2 cup
Coal – 2 large
Ghee – 1 tablespoon
Recipe method–
Marinate chicken pieces in red chilli powder, ginger and garlic paste, garam masala powder and salt.
Blanch tomatoes in boiling water for 3 minutes.
Peel tomatoes and blend them into a puree while roasting cashew nuts.
Grind the roasted cashew nuts into a coarse powder with a mortar.
Heat butter in a Kadai and add the chicken chunks to saute them for few minutes.
Add slit green chillies and also pour in the tomato puree.
Add half cup water and cover the kadai; let the chicken simmer in the gravy for about 10-15 minutes.
Add in the roasted cashews and cover for another 3-4 minutes. Add lemon juice and coriander leaves while the chicken gets tender. Cook for another minute or 2.
Add in fresh cream and stir; remove from heat.
Heat coal on an open flame until red hot and place it into a steel bowl.
Place the bowl over the chicken and pour ghee onto the coal. As soon as smoke emits, cover the kadai with a lid.
Open the lid, remove the coal, and serve hot!
Craving for a 'Koyla Chicken' already? Get authentic homemade Koyla chicken from Masala Box, under the Relish menu. To order now, check out the Masala Box page now, and get amazing home cooked meals door delivered to your doorstep now.