Gulab jamuns are a popular Indian dessert, and the warm, sweet sugar syrup accompanies them is the perfect complement. It's also incredibly easy to make—and it's delicious! The syrup can be made in advance and kept for several weeks in the refrigerator or frozen.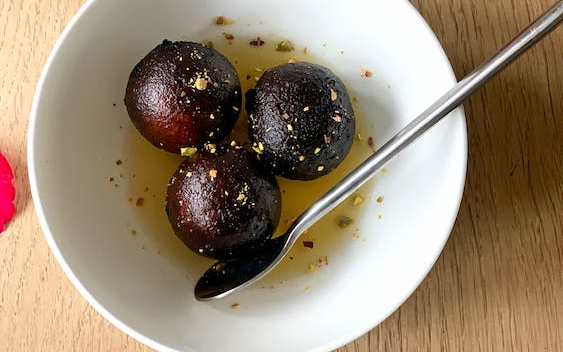 Boil 1 cup water with the sugar in a heavy-bottomed pan for about 10 minutes and simmer for another five minutes.
Boil 1 cup water with the sugar in a heavy-bottomed pan for about 10 minutes and simmer for another five minutes.
The syrup must be very thick, so you may need to simmer it for more than five minutes if your syrup is not that thick after ten minutes.
For a more highly concentrated syrup, boil together 1 1/4 cups each of water and sugar for 20 minutes.
Sugar syrup is a basic ingredient in Indian desserts. It's made by boiling together sugar and water until the sugar dissolves, then letting it simmer until thickened. You can use less or more water to make the syrup, depending on how concentrated you want it to be. For a concentrated sweetener like this, we're using 1 cup of sugar per 1/2 cup of water—a ratio that will yield a very thick syrup with an almost candy-like consistency when cooled.
You can also use other ingredients in your sugar syrup—like lemon juice for extra tartness or rosewater for floral notes—to change up your dessert flavours!
Stir constantly as the sugar melts to prevent scorching.
To prevent scorching, stir the sugar until it melts. You can use a wooden spoon or whisk for this step. Stirring helps dissolve the sugar in water and prevents burning on the bottom of your pot. If you are using a whisk, make sure it is clean and free of any residue from other cooking projects so that it does not leave any particles in your syrup mixture and change its taste.
If you own a food processor, slicing nuts or fruits can easily be done by placing them inside and pulsing until they reach your desired size/shape.
To make rose syrup, add a little rosewater to the sugar syrup
Rose syrup is a sweet syrup that you can use to serve with gulab jamuns. You can also serve over desserts such as ice cream or fruit salad. Rose syrup cook by boiling together water and sugar until the mixture reaches about 240˚F (116˚C) on a candy thermometer. To make rose syrup, add a little rosewater to the sugar syrup in the end.
Experiment with your sugar syrup
Saffron and cardamom pods are optional. If you want to add flavour to your gulab jamun, use a cinnamon stick in the syrup.
If you're using saffron, use 3 strands. Although, if you're using cardamom pods, use 3 or 4 whole pods (or more if you like).
While you can use any type of Jamun for this recipe, the best one to use is homemade. You can also buy ready-made Gulab jamuns from your local Indian grocery store.
Depending on your preference
Orange is a classic choice for gulab jamun, but lime has its own merits. Depending on your preference and what you'll be using the syrup for, mix in orange juice or lime juice before serving. Here are the benefits of each:
Orange Syrup: The acidity from the citrus helps cut through some of the richness of this dessert and balances out any sweetness that might otherwise be overwhelming. It also pairs well with other flavours like pistachio or rosewater, which you can add to your gulab jamun batter for added flavour.
Lime Syrup: Since it's less acidic than orange, this one is perfect for pairing with savoury dishes like falafel (as seen above). It also gives off a bright green colour that adds visual contrast to food plating!
Lemons are the most acidic option, making them perfect for curbing any sweetness in your gulab jamun batter. You can also use it to make limeade or add it to carbonated water for a refreshing drink. If you're looking for something more subtle, try mixing lemon juice with sugar syrup before adding it to your dough.
Conclusion
And that's how you make gulab jamun syrup! Now, isn't that easy? Remember, this is a simple recipe that you can use for other desserts as well—whether it's pancakes or waffles or just about any fried dessert.