Switching to a balanced & healthy diet and exercises regularly is sure to help you lose weight. However, several individuals have a misconception that starving themselves and overtraining will result in faster weight loss. Unfortunately, starving yourself and overtraining may slow down the progress. So, if you are serious about weight, you should avoid these two methods and focus more on how to eat when dieting.
It is important to eat food that is rich in proteins and nutrients on a daily basis. This will provide sufficient amounts of nutrients into your body and keep you healthy & safe. So, here are a few more reasons that will give you a clear idea on why you should not starve yourself when you are on a diet to lose weight .
Why You Shouldn't Starve Yourself
Experts in the field of healthcare have advised and stressed several times that starving is a bad idea. A very recent study revealed a shocking conclusion that starving actually results in the death of certain cells in the body. The death of these cells, which happens due to lack of nutrients and glucose may also negatively affect immunity.
The study also pointed out that cell death due to starvation is quite similar to cell-death treatments like chemotherapy. Several other studies have found out that prolonged starvation may result in organ damage.
Going on a diet, where you are starving yourself is also sure to cause great loss in water weight and muscle mass. This will in turn slow down the rate of metabolism, which will make you feel hungry. As a result, you may end up overeating and putting up more weight.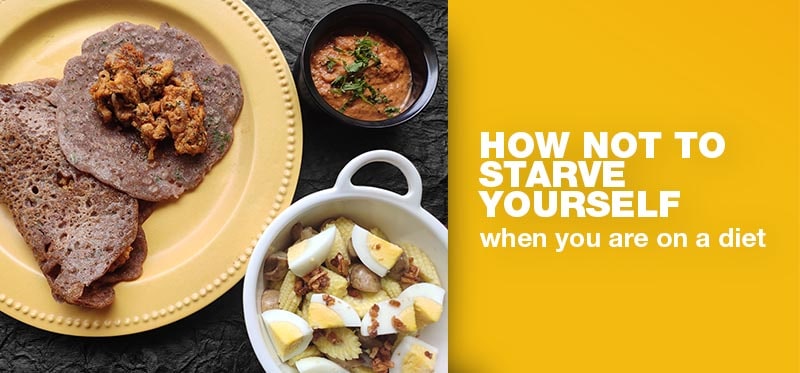 Common Symptoms You May Experience When Starving Yourself
Starving yourself can take a great toll on not just your physical health, but also on your mental health. In fact, you may experience frequent and rapid mood changes, difficulty to sleep, a higher level of stress, and more. In addition, prolonged starvation may also make you feel depressed.
When it comes to physical health, starving yourself to lose weight will give you frequent headaches, constipation, and it may also lower your blood pressure. The good news is that you will be able to stay away from all these issues by switching to a healthy diet.
Opt For Healthy Alternatives
Most people who try to include healthy alternatives in their daily diet are more likely to lose weight. In fact, these groups of individuals will lose weight at a faster pace when compared to the ones who are starving themselves. So, make sure to include healthy food items in your diet instead of eating less or starving yourself.
It would be best to cut down sugar from your daily diet to help you with your weight loss journey. Another important thing to note is that you should be realistic with your weight-loss goals. Try not to avoid your favorite food items, instead start eating healthy and smart. You could also include a cheat day once or twice every week.
How To Eat When Dieting
As mentioned earlier, avoiding the practice of starving yourself when on a diet is the first thing to do. In addition to that, here are a few more tips on how to eat when dieting that will surely help you.
Healthy snacks and food items that are rich in proteins and nutrients must be included in your diet. These food items will give your body the energy it needs and makes you feel full and satisfied. When you are feeling hungry, eat peanuts, almonds, and other healthy snacks.
The art of practicing mindful eating is another simple but effective way that can help you to lose weight. Having control over what you are eating by resisting your temptation of foods that will make you gain weight is crucial. These small changes will prove to be quite effective when trying to lose weight.
Subscribe To A Healthy Diet Plan
It can be quite hard for some people to prepare healthy meals every day. Stressful work schedules and busy lives can get in our way. This is why we have introduced a healthy meal plan, Smart Carbs that will ensure a guilt-free eating experience. You do not need to compromise on taste to lose weight. Instead, you need to start eating smart & healthy, this is where our Smart Carbs plan comes into play.