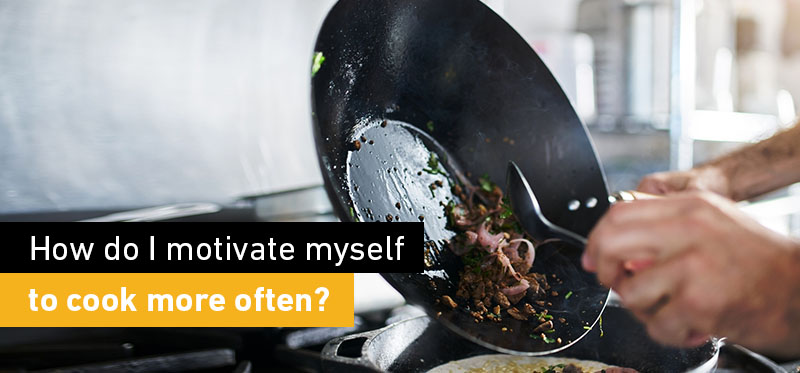 We've all had those days where we are lying in bed binging on our favourite shows, or on our desks engrossed in our computer screens to prepare for the next meeting. It's hard to gather the motivation to get up, go to the kitchen and start chopping and stirring.
No reason to worry, we've got you covered! Here are five tips and tricks to make you cook more regularly and save your wallet and your health.
Make a list of your favourite things to eat
The first decision is always the hardest- What to eat? It is easier to make
something if you know what it is you are making. Have a list of all your favourite easy-to-prepare dishes ready. These are easily available on the internet with a quick search. Note down the recipes if you feel that will make it easier. Just glance through it every time you are out of ideas to cook and just like that, your first reason to not cook is out of the bag.
Go grocery shopping regularly
Another obstacle you would encounter in this adventure is the lack of ingredients. Make sure basic ingredients are always available in the kitchen. Salt, cooking oil, chilli powder, masalas, spices, etc. are some ingredients that are needed for the majority of Indian recipes. Restock expired ingredients every two days or whenever there is a need. Simply walk into your nearest supermarket or even order online if you don't have the time. There are various grocery delivery apps that deliver your order in a few hours. Your second reason to not cook is also out.
Meal Prep
If you are someone that can not find time through the day to take a breath, meal prepping is your cheat code. Use your off-days or weekends to have meals prepared for the rest of the week and store them in the refrigerator. There are tons of recipes available throughout the internet for easy delicious meal preps. All you need to do then is heat up the food whenever necessary and indulge guilt-free.
Research a few One-pot recipes
Doing the dishes is probably the worst chore there is but avoiding it is not that difficult. There are a ton of online recipes that focus on one-pot cooking to make the cleaning up process easier. Have them handy for the days you don't want to do the dishes. Just pop all the ingredients into one big bowl one after the other to allow them enough cook-time and you're good to go.
Clean as you go
Cooking creates a mess in the kitchen. There is always a garlic peel or rogue salt that has escaped the spoon. No one wants to end up in a spice war zone after cooking. Having to clean that up is a task that you would rather avoid. A simple technique is to clean up as you go. Throw the peels out, put the bowl that is not in use anymore back to its spot while the food cooks and see the difference it makes to the after state of the kitchen.
Lastly, we understand that there might be days where you don't have a minute to spare or you just can't make it to the kitchen to whip up something quick and easy. There is no need to be too hard on yourself. You are allowed a few breaks from the kitchen to reward yourself or make your day a bit easy with ordering in. However, if you are someone who has tried everything and for some reason is not able to cook at home regularly, you can go for healthy and homemade food delivery services like ours.