The festival of lights, Diwali is just around the corner and most of us are busy preparing for the festival. It is clear that we won't be able to celebrate Diwali grandly like the previous years due to the current situation. However, that doesn't mean Diwali celebrations will lose its sparkle. There are plenty of simple and fun ways to make the most of Diwali celebrations. 
Food, especially sweets are one of the integral parts of Diwali celebrations in the country. It is that time of the year when families gather around, prepare, distribute, and delicious sweets with their near and dear ones. 
Preparing sweets and distributing it to friends, family, and others is an Indian festival tradition that is followed since ancient years. You can easily prepare plenty of Diwali sweets at home with ease. If you are looking for suggestions, here are some simple Diwali sweets recipes to get started. 
Jalebi 
The spiral shaped deep fried sweet is an absolute treat for people with sweet teeth. Jalebi is a juicy and crispy sweet that is widely popular across the Middle East and South Asia. Jalebi can be easily prepared by frying maida flour batter, which is later soaked in sugar syrup. 
Gulab Jamun
The incredibly popular and classic Indian sweet, Gulab Jamun is a common presence in most festive menus. Gulab Jamun is usually prepared with khoya, but it can also be made with milk powder. The delicious solid liquid based sweet is often garnished with cashews, almonds, and other dried nuts for enhancing the flavor. 
Coconut Burfi
As the name suggests, coconut burfi is a sweet that is made from coconut. It is a simple and easy to prepare Diwali sweet that tastes delicious. Coconut barfi, which is prepared with cardamom powder, sugar, and milk is a sweet that is commonly made during other festivals and celebrations in South India. 
Mysore Pak
Mysore Pak is a well-known and popular classic Indian sweet prepared with gram flour, sugar, ghee, and cardamom. It is also commonly made during festivals, weddings, and other auspicious occasions in South India. 
Besan Ladoo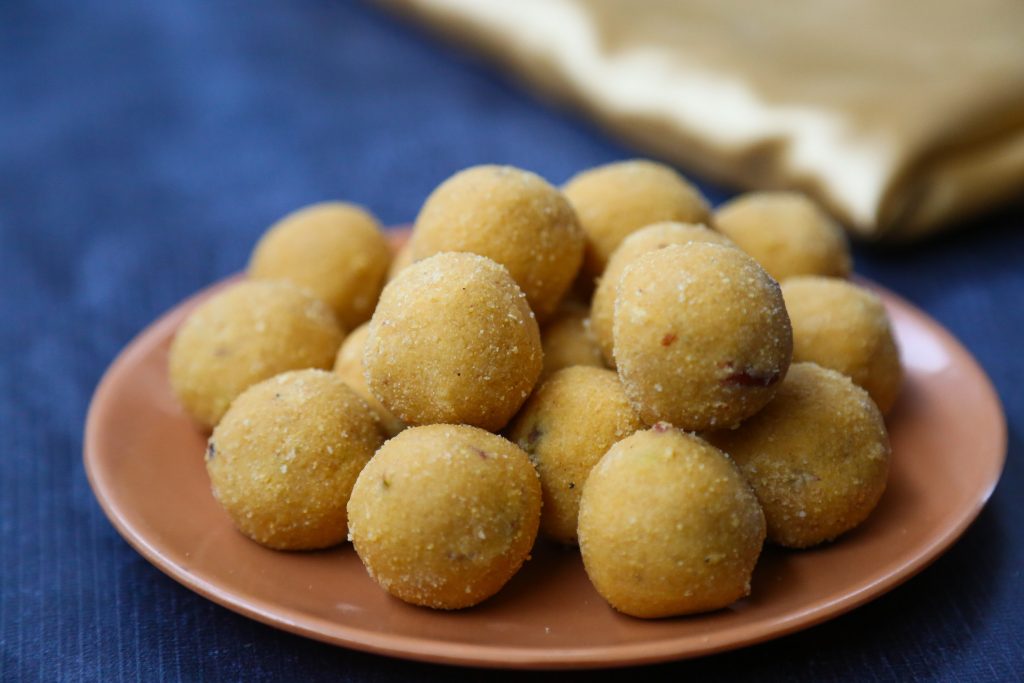 Besan Ladoo is another easy to prepare Diwali sweets recipe that will surely leave you craving you for more. The sweet, which is prepared commonly during festive seasons is made up of ghee, nuts, cardamom powder, sugar, and gram flour. 
Kaju Katli
Kaju katli is an easy to prepare and incredibly delicious Indian fudge that is prepared with sugar and cashew nuts. Kaju Katli is usually thin, and is not thick like a barfi. In fact, the term Katli means thin slices. A box of dry fruits or Kaju katli is often gifted to near and dear ones during Diwali and other festivals. 
Rasmalai
Rasmalai is an excellent option for the ones who are looking to prepare a delicious indian sweet at home during Diwali. This popular Begali sweet is made with chenna discs or paneer. To make these discs spongy and soft, we cook them in sugar syrup while preparing Rasmalai. The word Ras in Rasmalai means juice while the other term Malai means cream. 
Rava Ladoo
Rava Ladoo or suji ladoo is another popular indian sweet that is prepared during Diwali and other festivals. The delicious Indian sweet is made with ghee, sugar, and semolina & it can be easily prepared at your home in 30 or less than 30 minutes. The aroma and crunchiness of Rava Ladoo will leave you wanting for more. 
Moong Dal Halwa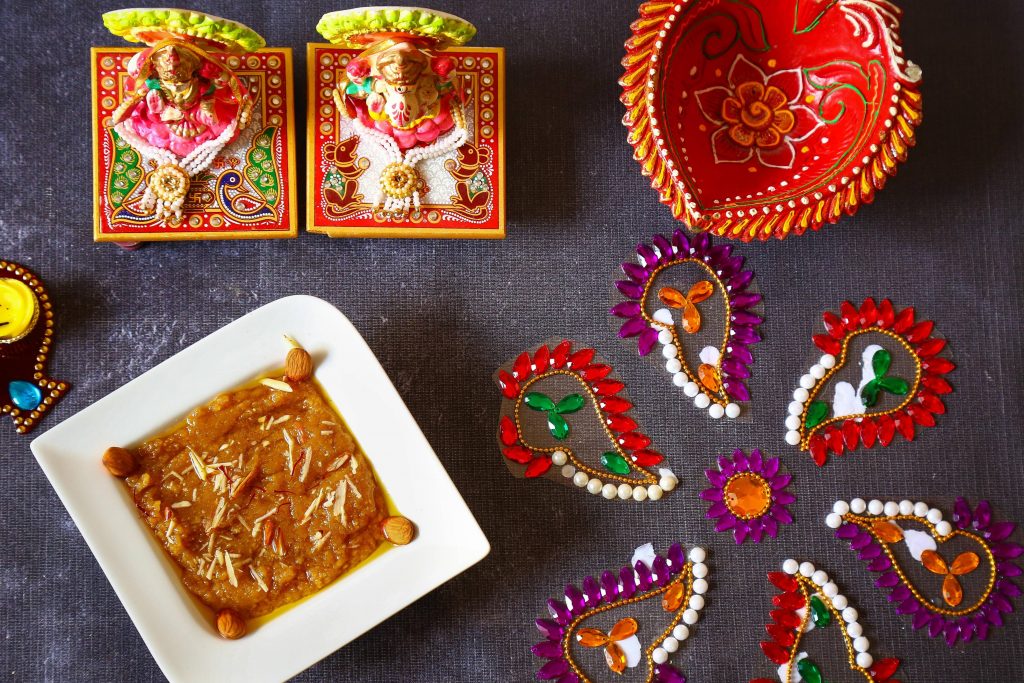 Here is another classic and popular Indian sweets recipe that is an ideal choice for dessert. Moong dal Halwa, which is prepared with ghee, cardamom powder, sugar, and moong lentils is not just delicious, but also has a unique aroma. Even though halwa is often made at Indian homes, Moong Dal Halwa is generally prepared during festivals and other celebrations. 
Anjeer Barfi
Anjeer Barfi is a guilt free Indian sweet that you can prepare in 20 or less than 20 minutes. It is considered as a guilt-free sweet because it is free from sugar. In fact, the sweet is made with nuts and dried figs. So, you would be probably wondering where the sweetness of Anjeer Barfi comes from? It comes from the dried figs, mixed nuts, and dates used to prepare it.