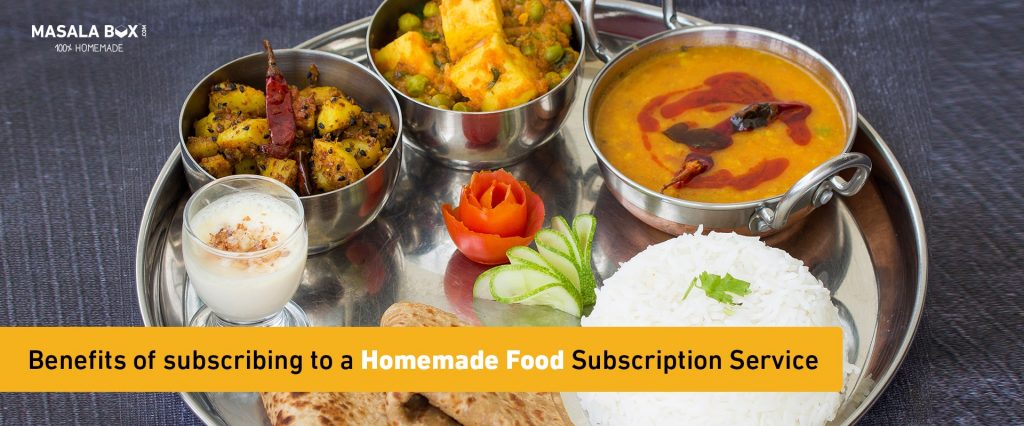 Introduction
Healthy eating should undoubtedly be a part of our regular life. Eating fancy and junk is nothing more than a trend and putting your health at stake. It can be very harmful to your health in ways you never expected. Homemade Food Subscription Service somehow made it easier to order homely and healthy food.
One of the most common problems faced by students, bachelors, office employees is cooking. Especially if they stay away from home and cannot juggle between their hectic schedule, cook, or even know how to cook. In such a situation, Homemade Food Subscription Services are important instead of ordering every day from a restaurant.
12 Health benefits of the Homemade Food Subscription Service:-
Homemade food provides good nutrition:
Homemade food subscription services are a replica of a home-like meal experience. They provide healthy and nutritious foods that give a homely feel. The ingredients used are fresh and natural. It does not contain any preservatives, food colorants, or additives.-
Reduces the risk of diseases:
Eating healthy will keep you protected from all long-term illnesses and ensures a good metabolism that strengthens your blood cells to fight against any diseases.-
Helps you maintain your mental health:
Having a proper diet and well-maintained consumption of the necessary nutrients will keep your mental health, healthy. Eating unbalanced food reflects on your sleeping schedule, stress, and mental health. Eating subtle and healthy food every day helps your mind to calm down.-
Balances good mood and improves work capacity:
Good healthy food helps you maintain a focused day as your stomach will be full, it helps you concentrate with ease. Junk food has the ability to make you laze around which affects your mood and this impacts your work.-
Includes main nutrients:
The food provided by food subscription services has balanced levels of proteins, carbs, calcium, vitamins, minerals, and fats.
If you are someone residing in Bangalore and wondering where and how to opt for a homely healthy nutritious food home life food, then you should try Masala Box. We are a homemade food delivery subscription service that provides healthy home-cooked food prepared by home chefs.
Here are some reasons why you should opt for a Homemade Food Subscription Service:-
Hygienic and Healthy:
Apart from the health benefits, we maintain hygienic standards, giving their customers the best quality of food with utmost care.-
Food quality control:
We use some of the best and finest raw materials. It has no added preservatives, additives, or food colorants. Food becomes tastier without these artificial processes.-
Value for money:
We provide an adequate amount of healthy nutritious food with a good amount of quantity and quality for a reasonable price. We offer an extensive range of food be it North Indian or South Indian and veg or non-veg. The pricing is quite efficient.-
Variety in the menu:
You can experiment with a wide range of both North Indian and South Indian food. We also have non-veg and veg options. Our extensive menu doesn't get you bored and let's you savor different homemade dishes.-
Made by home chefs:
The food is procured from a network of home chefs, who use only garden-fresh ingredients to prepare decadent dishes in home kitchens that are compliant with sanitization guidelines.-
Comfortable eating schedule:
You can plan your meal way ahead of the week and schedule your time of delivery at any point of time seamlessly without any hassle.-
On-time delivery:
Our delivery executives deliver on the time slot you choose. Fixed schedules help in planning beforehand and avoiding chaos.
Homemade Food Subscription Service is a convenient way of receiving delicious home-cooked food at your doorstep. It is healthier and has a variety of items. It is wholesome and made by home chefs who genuinely care about your eating habits. It is a one-stop solution for your homemade food cravings.