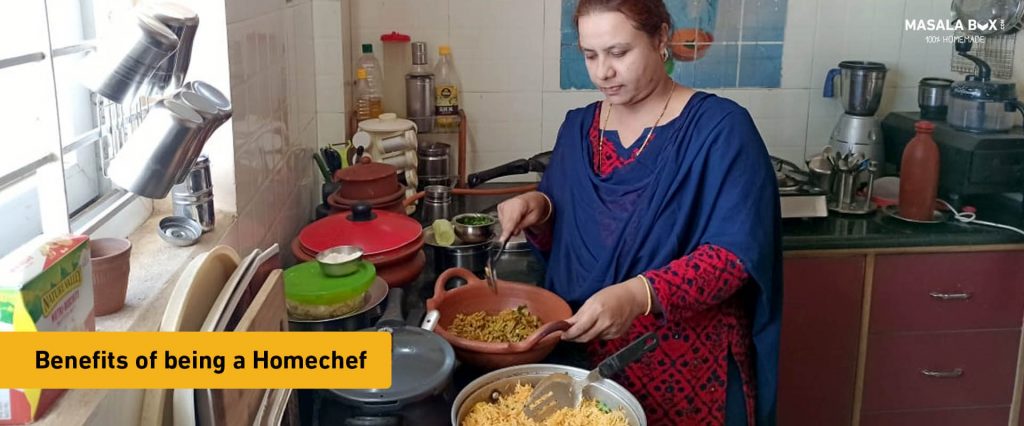 Introduction
It's a privilege to have a career that you are passionate about and work in an environment that supports your growth. Being a home chef is one such career option that allows you to do what you love and also make money. How great is that! But wait, there are more benefits to being a home chef.
Here are a few of the benefits that one can have being a home chef.
Flexibility
Being a home chef is one of those jobs that give you the flexibility to choose the days you want to work. The stability of your income is in your hands. If not anywhere, at least in Masala Box, it is that way. We allow home chefs to decide their schedule in advance and work only on the days they are available.
Logistics
Logistics being taken care of by the company you are associated with is one of the primary benefits of being a home chef. If you had started a small business on your own, then you would be responsible for logistics and payment too. That takes a lot of manpower, networking, and investment. With being a home chef, you can conveniently cook from your kitchen while the company does packing and delivering.
Content and satisfaction
At the end of the day, you have to be content with your job to have a peaceful mind and mental space. You will have that when the job you are doing doesn't involve anything fishy. Homemade food is trusted and loved by people. With being a home chef and cooking homemade food, you are solely responsible for your actions. You will be guilt-free and happy knowing that your recipe has come out well and the customers are loving it.
A start towards something bigger
Starting as a home chef is the best way to hone your culinary skills. You will understand how every customer has different needs, how to portion a meal, cooking in larger quantities, how to tweak it according to requirements, and more.
Want to be a home chef in Banglore?