Introduction.
Tandoori Momos are a favorite among Nepali people but are not just a street food staple. These delicious dumplings are served in a variety of ways: deep-fried or pan-fried, stuffed with meat, or with vegetarian fillings. There's even an option to make them at home!
This post will show you nine tasty ways to eat momos using traditional recipes and modern twists that will leave your taste buds begging for more.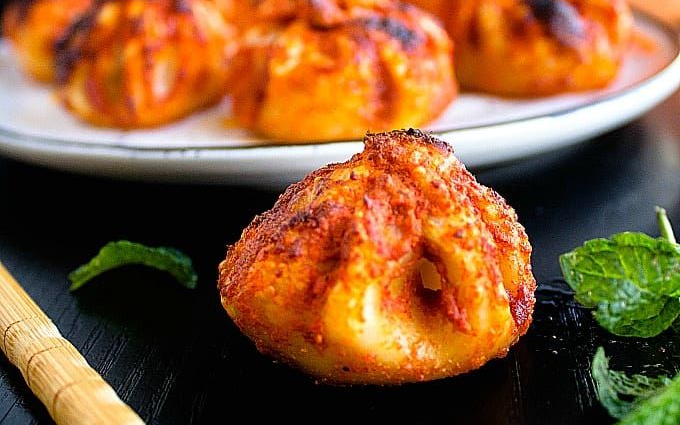 The 9 Tasty Ways to Eat Tandoori Momos
Tandoori Momos with Creamy Red Sauce
Tandoori momos are a popular Indian street food that's served with a tangy, spicy sauce. But if you're looking for something sweeter, try this creamy red sauce instead! You can use it as a dipping sauce or even as a spread on your favorite flatbreads.
Further reading: How to make chicken momos – The great Indian dumplings
Tandoori Momos Chili Gravy
Tandoori momos are delicious on their own, but why not spice things up with this spicy chili gravy? Simply cook the momos in a pot of boiling water until they're not raw, and then serve them with your favorite dipping sauce.
Steamed Tandoori Momos in Red Thai Curry
Tandoori momos are typically eat with a mild curry sauce, but if you want to spice things up, try this Thai red curry instead. It's full of flavor and makes a great dipping sauce for these steamed dumplings!
Deep Fried Tandoori Momos Balls
The first step to making these delicious fried momos is to steam them until they're cooked through. Once that's done, you should begin frying them up in a wok or pan with some oil until they're nice and crispy. Serve these snacks with your favorite dipping sauce, or try something spicy like chili garlic paste or sriracha!
Mint Flavored Tandoori Momo Salad
This savory salad is a great way to enjoy your tandoori momos without having to eat them as an appetizer or snack. The combination of mint, cilantro, and cucumber with the creamy yogurt dressing makes this dish incredibly refreshing and tasty. If you want to add some protein to this salad, try adding chickpeas or chicken (cooked in the tandoori marinade).
Sesame Flavored Tandoori Momo Noodles
Use your tandoori momos as the base for a noodle dish, and then add noodles to boiling water for about 5 minutes. Drain the noodles and place them in a bowl with your sauce.
Further Reading: Momo Paratha – The Dish That Makes You Go Mmmmm
Tandoori Momos with Cheesy Dip
Tandoori momos taste great with a cheesy dip. You can use any type of cheese you like, whether it's your favorite kind or one that's on sale at the store. Go for it if you have time to make your own cheese sauce from scratch! The best part about this recipe is that there are so many ways to customize it.
If you don't have time to make a homemade cheese sauce from scratch and want something quick and easy, look for a jarred version at the store (or even better: find one with chunks of melted mozzarella in it).
This way, all you need to do is heat up some water on the stovetop and pour your jarred snack into some individual bowls, so each person gets their own portion of goodness.
Tandoori momo burgers
Tandoori momo burgers are a fusion of burgers and tandoori momos. And making them a fun and delicious way to eat this popular Nepali dish. They are savor with stuffing a patty made from ground chicken or lamb with some vegetables, then cooking it on the grill until it's browned. The patty is served atop a potato bun with lettuce and tomato slices. Along with some creamy mint sauce on top.
Tandoori momo burgers are typically best dish as an appetizer or as part of an entree for lunch or dinner; however, if you want something more substantial than an appetizer, then simply add fries!
You can make these tasty treats at home using this recipe for tandoori momo patties:
Further reading: Learn How To Make The Most Popular Indian Street Food – Vada Pav Masala!
Conclusion
Are you looking for a way to spice up your taste buds? Try these nine tasty tandoori momo recipes. Depending on how many people will be eating with you, you can serve these dishes as appetizers or main meals. These recipes are so easy that even a beginner cook could master them!