The city of Bangalore is known for its wide variety of restaurants offering a wide range of cuisines. Whether you are looking for a vegetarian or non-vegetarian meal, this city has them all. From fine dining to street food, there is something here for everyone. However, the list below contains some of the best Pure Veg Restaurants near Frazer Town, which will leave you drooling with their delicious dishes.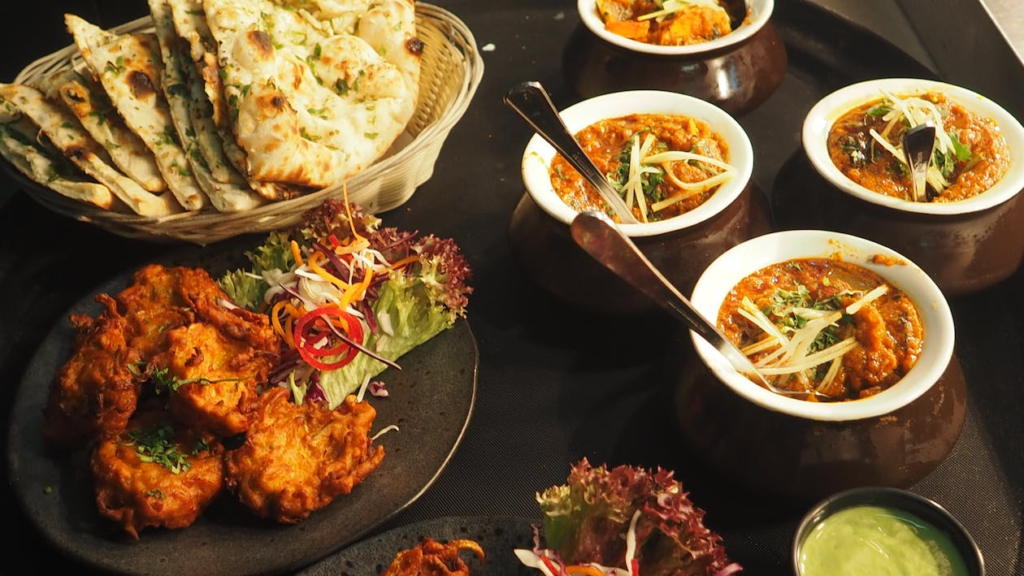 1. Manjit Da Dhaba
Pure veg Manjit Da Dhaba is a pure veg restaurant located in Frazer Town. Manjit Da Dhaba provides a good ambiance and delicious food to their customers. The staff of this restaurant is friendly and helpful, so it will be comfortable for you to dine here.
The food of this restaurant is very tasty and delicious. They serve a variety of Indian dishes, including veg biryani, paneer tikka, butter paneer, Dal makhani, and much more. You can order any dish from the menu according to your choice.
2. VijayaLakshmi Veg
VijayaLakshmi Veg is a popular veg restaurant that has been around for a long time. They are an old and very known name when it comes to clean and fresh food. VijayaLakshmi Veg is located in Frazer Town.
The menu includes some of the best south Indian dishes you can find in the city, like idli sambhar and vada body with sambar or rasam. Some of their specialties are uttapams (south Indian pizza), samosa, dosa, and masala dosa which they serve with chutneys, or Kesari bath (a sweet dish made from rice).
3. Sagar Delicacy
If you are looking for a good vegetarian restaurant in Frazer Town, then Sagar Delicacy is the restaurant that you need. The food is just extraordinary, totally perfect, very well-balanced taste. They serve you their special dishes like Udupi style dosa and idli and vada plus others.
A good classic old school Udupi style restaurant, they still make dishes the way we used to have during the good old days. Pocket-friendly prices and quick service. It has become a regular place for me to visit when I am in Bangalore as I love their south Indian food, especially dosas, which are served hot and crispy along with chutney of your choice or sambhar/rasam(both Tamilnadu style).
Great place for dinners with friends and family
Further Reading: 9 Best Pure Veg Restaurants near Jayanagar
4. The Grill & Cheese Cafe
The Grill & Cheese Cafe is one of the best pure veg restaurants in Bangalore. It's a bright, casual eatery serving pasta, burgers & wraps, along with hearty fried snacks. We tried their Mac & Cheese, Grilled burgers, and Cheese Balls which were made to perfection.
The Oreo Shake was an interesting addition to our meal at The Grill & Cheese Cafe. Overall it's a great place for foodies who want some high-quality pure vegetarian food at super, very pocket-friendly prices.
Further Reading: Top 10 Pure Veg Restaurants In Indiranagar
5. Dharmik veg
Dharmik Veg Restaurant is one of the best veg restaurants in Frazer Town, Bangalore. This restaurant serves south Indian, north Indian, Chinese and Malayalam cuisines. The food is fresh and tasty with pocket-friendly rates.
For vegan diet lovers, this place serves pure veg food that has no garlic or onion in its recipes. Their service is very quick, and they have a very clean ambiance with good music listen to while having dinner or lunch with friends or family.
6. The Thai Vegan Kitchen (Takeaway & Pre-booking dining)
Thai Vegan Kitchen is one of the most popular, and for a good reason. A local favorite, this restaurant serves authentic Thai food at great prices. They avoid single-use plastics as much as possible.
The rice, noodles, and salads come in paper packaging, while the sauces and curries come in dainty glass jars. The veg katsu curry was outstanding! We also tried their summer rolls with peanut dipping sauce, som tam (raw papaya salad), Khow suey, Thai green curry, and drunken noodles, which were all delicious!
It's easy to see why people love this place so much—they offer both veg and non-veg food options for customers like you who want something different than your classic Indian fare but don't know where else to go!
They have a variety of vegetarian dishes that can be veganized upon request, too—you really won't be disappointed here if you decide it's worth trying out some authentic South Asian cuisine!
Further Reading: 5 Best Pure Veg Restaurants near Malleshwaram
7. RS shivsagar resturant
RS Shivsagar Restaurant is a pure vegetarian restaurant near Frazer Town, Bangalore. It serves all kinds of veg food, brownies & milkshakes. This place is a great destination for college students as it's close to their institutes and also has a nice ambiance.
The Veg specialties here include North India, South Indian, Chinese, and even pizzas and sandwiches at quite reasonable prices. The food here is Fab!!
Lots of options on the menu. It's a multi-cuisine restaurant. Great place for your family get-togethers or parties because they have indoor seating too, which can be reserved in advance if you are having guests over with larger group numbers so that everyone can sit together comfortably without having to worry about space constraints or crowding one another at any point during the party time which might otherwise dampen your mood altogether!!
Conclusion
We hope you have enjoyed reading this article and have found it useful. If you are looking for more pure veg restaurants near Frazer Town, Bangalore, then check out our other articles on the subject. These include the best pure veg restaurants near Silk Board, Banashankari 2nd Stage, Basavangudi, and Koramangala, which will help you find a place to enjoy your meal in these locations too!