Bangalore is the most cosmopolitan city in India. It is known for its rich history and culture. Bangalore has several famous places for its pure vegetarian dishes and snacks. If you want to taste some delicious veg food, these restaurants will treat you! Let's take a look at these seven best pure veg restaurants near Electronic City Bangalore:
The Rasoiya Street
Rasoiya Street is a vegetarian restaurant located in Electronic City, Bangalore. It serves a bunch of Indian and Chinese cuisines.
The ambiance was amazing, with its beautiful lights and green shades! It was one of the best restaurants in Electronics City. The staff was very courteous and helpful when we asked for recommendations on what to order. Their food presentation and quality are great too! They had an amazing selection of drinks and mocktails, which are perfect for any special occasion or birthday party at this place because they also have live music performances every week, so if anyone wants some romantic ambiance, then this place would be perfect for it!
Further Reading: Top 8 Pure Veg Restaurants In Koramangala
Sitara Veg Restaurant
Sitara Veg Restaurant is a nice vegetarian restaurant nearby electronic city. Lots of veggie dishes are there on their menu. The taste is also good. The price is reasonable.
Nearby to the D- mark in electronic city, this place has nonveg sitting on the first floor, and many chairs and tables are available. The restrooms are clean, and they are on the first floor too.
The restaurant is also clean and hygienic, so you can dine here confidently, knowing that you will not get sick after eating at Sitara Veg Restaurant! The menu prices are also moderate, so if you're looking for a place where affordable vegetarian food can be found without sacrificing quality, then Sitara Veg Restaurant may be just what your taste buds have been craving!
Ruchi Sagar Hotel
Ruchi Sagar is one of the most popular and best pure veg restaurants in Electronic City. It is located in front of the Electronic city metro station. It serves north Indian and south Indian food such as ghee roast, Dosa, Idli vada, etc. The place's ambiance is very good, and the cleanliness is maintained well. This restaurant also provides home delivery services for its customers who are staying far away from this place. So if you want a tasty vegetarian meal with your family or friends, then Ruchi Sagar would be a good choice for you!
Meridian South – A Pure Vegetarian Restaurant
Located in the heart of Electronic City, Meridian South is a pure vegetarian restaurant serving traditional dishes and lots of Indian sweets.
The restaurant has a seating capacity of about 100 people, an attached bar section, a kitchen, and parking space. The ambiance is soothing, and the place has been designed keeping in mind the comfort level of customers.
Further Reading: 8 Best Pure Veg Restaurants near Kammanahalli in Bangalore
Time Traveller (Urban Herbivore)
Time Traveller is a laid-back eatery offering buffet lunch and dinner, with dishes from around the world, plus a live cooking counter. They have an amazing range of dishes, and everything is a must try here!! must-visit the t place to have e sumptuous veg lunch buffet.
The food is pure vegetarian, and they do not use garlic in any food item. The live counter had all types of dosas and puri. The food overall was excellent, and the spread itself was varied.
Kapoor's Cafe Electronic City
Kapoor's Cafe Electronic City is a pure veg restaurant that offers Punjabi food. Located near the posh Electronics City, this place serves authentic Punjabi cuisine and has a lovely ambiance to go with it. They have an air-conditioned section and an open area for those who want to enjoy their meal in the open air.
The best part about this place is its Parathas which are just delicious! Also, if you're looking for something more adventurous, try one of their Garlic Chilli Paneer dishes or Dal Makhani, which will surely make your day!
New Taaza Thindi
New Taaza Thindi is a pure veg restaurant in Electronic city, Bangalore. It is known for serving quality food at affordable prices.
The food served here is mouth-watering and delicious. The ambiance is good, and the service is prompt. We ordered a Masala Dosa and Benne Onion Masala Dosa. The Benne dosa tasted better with a distinct flavor and the fragrance of the generous use of butter. Masala dosa is one of the best too. Crisp outside, soft inside with a thin spread of the body. The coconut chutney though watery and thinned down, is very flavorful.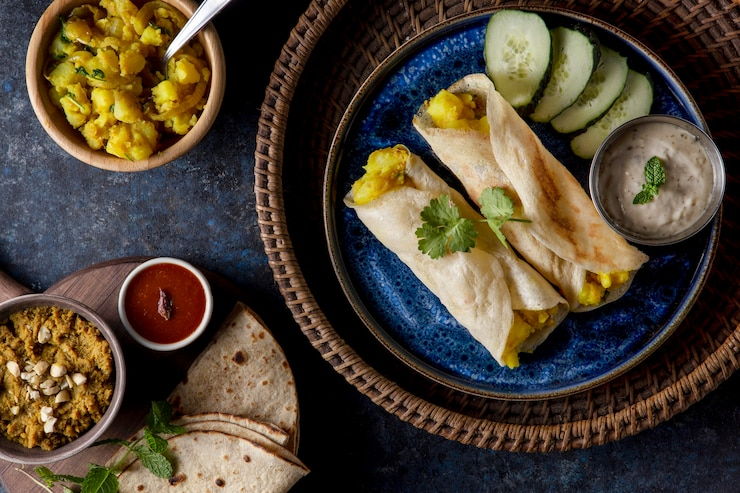 Conclusion
There are many pure vegetarian restaurants near Electronic City, Bangalore. Here we have listed the top 7 best pure vegetarian restaurants in Electronic City, Bangalore, which you can visit with your friends and family.