Valentine's Day is all about love, and what better way to show your affection than through delicious food? Cooking for your significant other is a romantic gesture that will surely leave a lasting impression. Here are five romantic foods to cook for your Valentine.
Chocolate-Covered Strawberries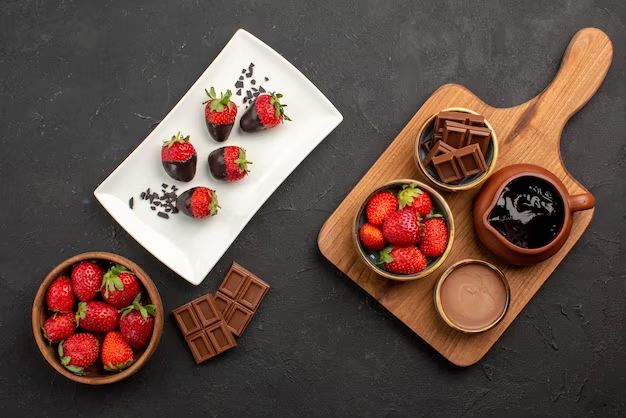 Chocolate and strawberries are a classic combination that never fails to impress. Dip fresh strawberries in melted chocolate, then let them cool in the refrigerator for an hour or two. The result is a sweet and juicy treat that's perfect for sharing.
Lobster Bisque
Lobster is a luxurious ingredient that's sure to make your Valentine feel special. Lobster bisque is a creamy soup that's easy to make at home. Simply sauté some onions, garlic, and carrots in butter, then add the lobster meat and some heavy cream. Serve with a side of crusty bread for a romantic and satisfying meal.
Heart-Shaped Pizza
Who says pizza can't be romantic? Make a heart-shaped pizza for your Valentine by rolling out the dough into a heart shape, then adding your favorite toppings. It's a fun and easy way to show your love through food.
Red Velvet Cupcakes
Red velvet cupcakes are a classic Valentine's Day dessert that's both delicious and visually appealing. Make them from scratch using cocoa powder, buttermilk, and red food coloring. Top with cream cheese frosting and a sprinkle of red sugar for a festive touch.
Steak and Asparagus
For a more savory option, try cooking a steak and asparagus dinner for your Valentine. Season a filet mignon with salt and pepper, then sear it in a cast-iron skillet until it's cooked to your desired level of doneness. Serve with roasted asparagus and a glass of red wine for a romantic and indulgent meal.
Conclusion
Cooking for your Valentine is a thoughtful and heartfelt gesture that's sure to make them feel loved. Whether you're making romantic foods like chocolate-covered strawberries or a savory dinner like steak and asparagus, the act of preparing a meal for someone is a true expression of love. So put on some romantic music, light some candles, and get cooking!