Food is the source of energy in every organism. Food is broken down into packets of energy, which help us keep going throughout the day. Even though we humans have shifted from more labor-intensive jobs to more skilled jobs, we for some reason lack the energy to reach our maximum productivity levels. This might be due to the increasing unhealthy diet amongst people nowadays, who are too busy to look after their health and the kinds of foods they consume. There are certain quantities of different nutrients that our body demands from us to function at its full potential. Due to the increased consumption of fast foods and ingredients like excess salts and sugar in our diets, many of us feel lethargic for the major chunk of our days.
These issues can be combated by taking a peek at our diet and making some healthier choices while dumping the foods that give us temporary joy but are detrimental to our health and energy levels in the long run. In this article, we would like to take a look at 5 recipes that are tasty and healthy, which you can add to your daily diet to improve your overall productivity. The best part is that these recipes are quick and easy to cook. Let's take a look at these recipes for a healthy diet and more productive living.
5 recipes to be eaten daily, to improve overall productivity:
Ragi Malt
This acts as a great early morning drink that is quick and easy to prepare. It has great health benefits like, it promotes weight loss, controls diabetes, reverts skin aging, lowers cholesterol, battles anemia, and relaxes the body. Considering the nutritional and therapeutic value of finger millet or ragi, it's surprising that it's not already a part of people's diets.
Recipe
To make ragi malt, mix some ragi flour with water, enough to make a paste. Next, boil some water, add salt and ragi paste to the boiling water and cook it for 2-3 min. Once the mix cools down add lemon juice and curd. That's it, your ragi malt which is gluten-free, rich in fiber, high in calcium, amino acids, minerals, and vitamin D, is ready.
Sprouts salad
This dish is a great source of easily digestible proteins. Not only this, sprouts salad helps reduce cholesterol and cleanses the body. Its rich fiber content is vital for the digestive system, keeps you satiated, and prevents you from binge eating. Sprout salad also helps in weight loss.
Recipe
To make sprouts salad, take one cup of moong sprouts and three cups of water. Rest it for 5 minutes before draining the water. Now to the sprouts add cumin powder, chili powder, aamchur, salt and mix it well. Next add some cucumber, tomato, carrot, capsicum, spring onions, some coriander, mint, finely chopped chili, and lemon juice. Mix all these ingredients well. Serve the salad on a plate and you are ready to eat it.
Strawberry banana smoothie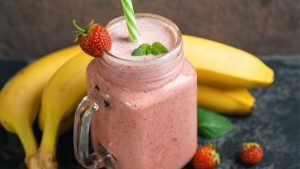 Bananas are one of the best sources of potassium. Not only this, bananas are rich in fiber and other nutrients. Tossing some sliced banana in your smoothie lifts your mood and gives you an energizing start to the day. Another great benefit of bananas is that the resistance starch supports digestive health and doesn't leave you feeling bloated or lethargic. Strawberries are rich in antioxidants which are good for the heart. They also give you a boost of energy and contain large amounts of vitamins. They prevent fat from forming in the body. Adding it to your smoothie protects your cells and gives your blood circulation a major boost.
Recipe
To make a strawberry banana smoothie all you have to do is add 1 and a half cups of milk, 1 cup of yogurt, a few strawberries, and sliced bananas, to the mixer. That's it, your smoothie is ready.
Dal paratha
Dal is one of the best sources of plant-based protein and fiber. This protein helps fill you up and prevents you from overindulging in your diet. It also helps in weight loss. It's the best way of eating a paratha guilt-free. Moong dal helps regulate your blood pressure and soothes the nerves.
Recipe
To make your dal paratha, cook the moong daal and add the cooked dal to a mixer. Once you get a fine blend of the cooked dal, add turmeric, red chili powder, aamchur, garam masala, cumin powder, ajwain, salt, and some chopped coriander. Mix it well. Your stuffing is ready. Now add this stuffing to the wheat dough and roll it in the shape of the paratha. Now heat your paratha on a hot tawa and apply some oil to it. That's it, your dal paratha is prepared
Besan ka chilla
It is high in proteins and carbohydrates, and is a very healthy breakfast. It is super easy to make and tastes delicious.
Recipe
To make besan ka chilla, add some besan in a bowl. To it add some rock salt and water. Stir it well to bake it into a batter. Then add some onions, tomatoes, spinach, turmeric powder, black pepper, grated ginger, and mix it well. Next, put some mustard oil on a pan and spread the batter on the hot pan. Cook both the sides and serve it on the plate. It tastes best with curd so don't forget to take curd in a bowl and sprinkle some black pepper on it. That's all it takes to prepare your healthy besan ka chilla.
Be sure to try these recipes for yourself and maintain a healthy diet. All these recipes are easy to prepare and will keep you energetic and help to improve your productivity.