Kitchen hacks make your life a lot easy. If you are someone who recently started cooking then here are a few hacks that will help to nail your everyday cooking. The motive of these hacks is to reduce the effort, wastage and cover up a few mistakes, of course!
Let's get started!
A for Acid
Lemon is a magical ingredient. The acidic nature of it comes as a savior in a lot of instances.
Ladies finger/Okra – A vegetable that is easy to make and is delicious. But, there's a catch, there always is. Ladies finger is a slimy vegetable. To avoid that, you can do two things. Firstly, you have to wash it and let it dry at room temperature on a cotton cloth. Secondly, when you add the chopped vegetable to the pan, you can a few drops of lemon juice to it. Remember, you must add it under 5 minutes after adding okra to the pan.
You can use lemon to also keep the color of green chutneys like pudina or coriander chutney. People who are away from home tend to cook in larger quantities and store it to save time and effort later. Chutneys are a big YES as it takes less time to make it and you can eat it with rice, roti, dosa, and idly too. However, these chutneys tend to lose color and freshness when refrigerated. To avoid that you can add one full lemon when you grind the chutney. It gives you a tangy taste and also helps to retain the color and freshness. Alternatively, you can add a spoon of thick curd while grinding.
Loving these kitchen hacks? Read on!
How to thicken a curry?
Mastering the amount of water required for curries comes with practice and experience. There may be times when we get the measurement wrong and add excess water. Not all time can you just let it boil in high flame to let the water evaporate. It will make the meat/chicken rubbery or overcook the vegetables. In that case, the right thing to do is roast and grind a tablespoon of poppy seeds and add it to the curry. You can also take a teaspoon of corn starch, mix it is with a tablespoon of water and add it to the curry. If you want it to thicken more, then you can repeat the cornstarch process.
Humid, fungus and more fungus
If you live in a humid place, then spices, dry chillies, and jaggery tend to develop fungus. It is a very heart-wrenching situation especially in the winters because spices are COSTLY and we don't want to waste them.
Here's a cool kitchen hack!
Add a couple of cloves to all your spice jars or boxes. You can add cloves to dry chillies too. You can keep jaggery in an air-tight container and refrigerate it. On a general note, avoid using wet spoons or fingers and always close the lid properly.
No pressure while pressure cooking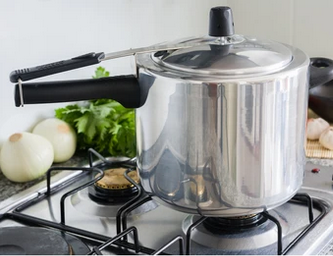 Pressure cookers, as much as a blessing it is, can be risky and scary as well. To avoid food particles and water coming out through the steam vent, always ensure whatever you are cooking, must be half or three fourth of the cooker's quantity. You can oil the safety valve and the vent on the inner side of the lid. Put the weight only when there is pressure coming out through the vent. Always ensure the lid is cleaned and there is nothing stuck in the vent.
Peel? Not a big deal!
Things we love hurt. Be it your partner or garlic. Garlic adds so much flavor and aroma, however, peeling it can be a tedious task. Here's how you can enjoy it without having to peel every millimeter of the skin. You can soak the garlic in warm water for 5- 10 minutes and then peel it. It will come off easily when you cut the top part of garlic. After peeling garlic, if you want to quickly get rid of the smell you can place your hands on stainless steel objects.
Hope you will try these kitchen hacks out next time you cook! Let us know in the comments about your experience.