The New Year, 2021 is finally here and most of us would be probably planning to take up some new year resolutions. It is no surprise that the resolutions of so many people are related to eating smart and eating healthily. Eating less junk food and avoiding overeating are usually two of the most common food related resolutions. However, if you are planning to eat healthily, it is important to include immunity boosting Indian foods in your diet.
Including immunity boosting and healthy food in your daily diet will make you feel good, healthy, and it will make your immune system strong. This will in turn help you to stay away from diseases. So, you might be probably wondering what are the immunity boosting Indian foods that I can easily find. Here are a few immunity boosting food suggestions to help you get started.
Indian Gooseberry
Indian Gooseberry, which is popularly known as Amla is a superfood that is rich in healthy vitamins and nutrients. In fact, Amla is one of the richest Vitamin C sources. Vitamin C has the ability to boost immunity. The amount of Vitamin C in Amla is more than 20 times when compared to that of Orange.
Amla also helps in cleansing the colon, which will result in the removal of excess toxins from the body. In addition to that, Amla is quite effective when it comes to a number of skin related issues. So, it would be a good idea to include Amla in your diet.
Ghee
Many of you might be surprised to see Ghee in the list of immunity boosting Indian foods. This is mainly because there is a common misconception that clarified butter or Ghee is fattening. However, ghee is one of the healthiest Indian super foods available out there and it is something you should definitely include on your daily diet.
Ghee is packed with Omega 3 and Omega 9 fatty acids, Vitamin A, B, and C. It is also a healthy source of butyrate and healthy fat. Pure ghee that cow gives also generate both energy and heat in our body, which will keep you warm. Including ghee in your diet will also help your digestive health in many ways.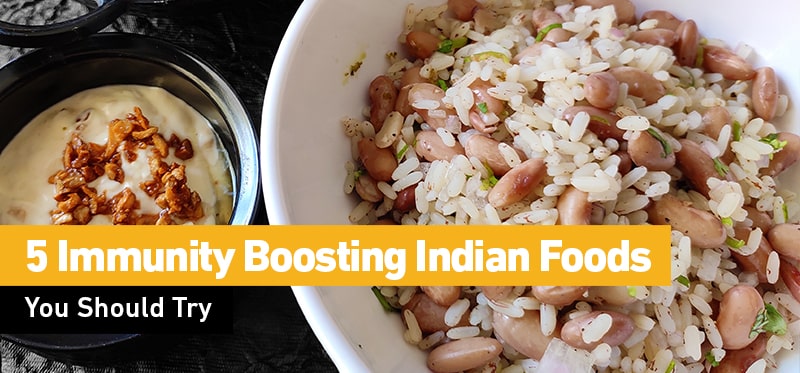 Whole-Grain
Whole-grain is another easily available and affordable Immunity boosting indian food. Most of us indulge in unhealthy foods and festive treats in the month of december and start putting on weight. These festive treats do not help you when it comes to providing nutrients in your body. This is where whole-grain comes into play.
Whole-grains like pearl millet, bajra, and maize are rich in iron, protein, fiber, and starch. As a result, whole-grains are capable of giving your immunity system a boost along with helping you lose weight and increase good cholesterol levels in your body.
Tulsi Leaves
Tulsi leaves offer plenty of health benefits. In fact, the health benefits of tulsi leaves have been vouched by both science and Ayurveda. The green tulsi leaves are available in most Indian households, but most people are not aware about the immunity boosting properties of tulsi leaves.
The expectorant, antitussive, and immunomodulatory properties of tulsi leaves will help in immunity boosting along with keeping your lungs clean. Having tea in the evening with Tulsi leaves or simply chewing them in the morning before having breakfast will surely keep you healthy.
Honey
Honey, the sweetening agent of nature, is rich in magnesium, calcium, and iron. Additionally, raw honey has a number of medicinal properties. For instance, the antibacterial properties of honey soothe our throat and it also protects us from fungi and bacteria. Including honey in your daily diet will also boost the immunity system.
If you are someone who loves to cook & eat sweet food items, it is best to replace the refined sugar with honey. Refined sugar doesn't have any nutrients and is not healthy so it is best to replace it with honey. Mixing honey in water and drinking it daily will also aid in weight loss.
It may be quite difficult for you to include all these immunity boosting Indian foods in your diet when you are leading a busy life. Stil, you gotta find ways to eat healthy and eat smart. If you are wondering how to do that without cooking at home, take a look at our Smart Carbs plan, which has yummy but guilt-free meals that will help you eat healthily.