Often you wake up in the morning and find some of last night's leftover food in the fridge. Some dishes are great as a leftover, some need a bit of heating and the addition of spices. The latter is what we are focusing in this blog.
Some of us might end up throwing this leftover leading to a lot of wastage of food. In India, the food wastage estimate suggests that 50 kg of food per capita is wasted per year. The United Nations suggests that a staggering 17% of total global food production might be wasted.
This leftover food can be used to cook a new recipe altogether, this way you don't waste food and it saves you some time as you don't have to cook from scratch. There are some amazing dishes you can cook using leftover foods, but in this article, we would like to look at 5 recipes that are easy to cook and the ingredients for which are readily available in most Indian households.
Let's look at 5 recipes that can be prepared using some basic leftover foods:
Roti Pizza: This recipe can be made using leftover chapati and can be made on a Tawa.
Place the chapati on the Tawa. Spread some pizza sauce on the top. Add veggies like capsicum, onion, jalapeños, olives etc. Then add some mozzarella cheese on the top. Add some red chilli flakes and other herbs according to your taste. Put a lid on the Tawa and let it cook for 2-3 minutes.
Paddu recipe: This recipe can be made using some leftover rice.
Add the leftover rice to a mixer/blender and add some water to it so that it turns out to be a nice fine paste. Add some rava and water to this paste and mix it well. Keep it for 10-15 mins so that all the water is soaked up by the mixture. Add some veggies to the batter like onion, capsicum, cilantro etc. Then add some chilli flakes, cumin seeds, pepper and salt. Mix it well. In a tampering bowl under a flame add some oil, rai and 2 chopped green chillies. Then add this tampering mix to the batter. Finally, add some baking soda. Add this batter to an appam pan and cook it for 3-4 minutes. Then turn them around and cook them for another 2 minutes.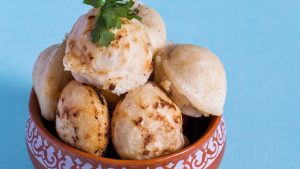 Khichdi cutlet: This recipe is made using leftover khichdi. It can be eaten as a very tasty snack.
Add the leftover khichdi to a bowl. Add some onion, garam masala, chat masala, salt, red chilli powder and add some bread crumbs. Mix this mixture well. Your dough is ready. Now mould this dough in whichever shape you like, coat it with some more bread crumbs, and fry it on a pan.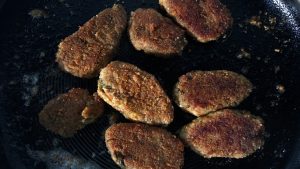 Paratha: This is made with leftover dal
Take some atta on a plate. Add some salt to the atta. Then add the leftover dal to the plate and mix it well to make a dough. Add a little bit of oil to the dough. Now you have to make small dough balls and roll them in the shape of a paratha. You then have to cook the paratha on a Tawa. Add some butter or ghee to the paratha.
Ladoo: Made out of leftover roti
Break the leftover roti into small pieces and add them to a mixer. The mixer will have the powder of the pieces of roti after mixing well. Take this powder in a bowl and add some sugar to it. The.pan add some elaichi powder and ghee and mix them well. Then roll the mixture in the shape of a ladoo, and your dish is prepared.
So these are some of the dishes you could make out of everyday leftover ingredients. These are very easy to make and taste delicious. Be sure to try these recipes out for yourself and avoid wasting leftover food. Experimenting with new dishes makes the art of cooking more fun and exciting.
If you have any recipes that you often make with leftover food, please drop the recipe in the comments.