Many people have a love for Italian food. It's delicious, and you don't have to break the bank to enjoy some of the best dishes. We have put together a list of recipes for some great Italian food that is healthy.
1. Zucchini Noodles with Meatballs
Zucchini noodles are a healthy, gluten-free alternative to traditional pasta noodles. They're perfect for pairing with your favourite Italian-inspired dishes. This recipe combines zucchini noodles with healthy meatballs and a simple tomato sauce. The result is a delicious, healthy dinner that the whole family will enjoy.
2. One Pan Baked Garlic Pepper Chicken and Veggies
If you're looking for an easy, healthy dinner option packed with flavour, look no further than this one-pan garlic pepper chicken and veggies recipe. This dish is perfect for a weeknight meal, as it only takes about 30 minutes to make. And cleanup is a breeze since everything is cooked in one pan.
To start:
Season your chicken breasts with some salt, pepper, and Italian seasoning.
Heat some olive oil in a large skillet over medium-high heat.
Once the oil is hot, add the chicken to the pan and cook for about 6 minutes per side or until golden brown and cooked through.
Next, add the veggies of your choice. We used bell peppers and mushrooms, but you could also use zucchini, eggplant, or whatever else you like. Cook the veggies for 5-7 minutes or until they're slightly softened.
Finally, stir in a jar of roasted garlic pasta sauce and some freshly grated Parmesan cheese. Let the sauce simmer for a few minutes to thicken up slightly. Serve the chicken and veggies over some cooked pasta or rice, and enjoy!
3. Spinach and Ricotta Stuffed Shells
These spinach and ricotta stuffed shells are the perfect healthy Italian dinner! They're packed with flavour but light on calories and can be made ahead of time for an easy weeknight meal.
To make the filling, start by cooking some chopped spinach in a pan with a bit of olive oil. Once it's wilted, add some ricotta cheese and mix everything until smooth. Then, stuff the mixture into some cooked pasta shells.
For the sauce, you can use a store-bought marinara or make your own. Simply simmer some crushed tomatoes with garlic, olive oil, and herbs like basil and oregano to make your own.
Once the sauce is ready, pour it over the stuffed shells and bake them in the oven until heated. Serve with a side of green salad, and enjoy!
4. Kale and Quinoa Ravioli
If you're looking for a delicious and healthy Italian food, look no further than this kale and quinoa ravioli recipe! This dish is packed with nutrients and flavour and will please even the pickiest of eaters.
The first step is to make the ravioli dough. This can be done by mixing together semolina flour, all-purpose flour, and salt in a large bowl. Then, add water a little bit at a time until the dough comes together in a ball. Once the dough is made, roll it out into thin sheets on a lightly floured surface.
Next, prepare the filling by cooking kale and quinoa in boiling water for about 10 minutes. Once they're cooked, drain them and add them to a food processor along with ricotta cheese, Parmesan cheese, egg, lemon juice, salt, and pepper. Blend everything together until it's smooth.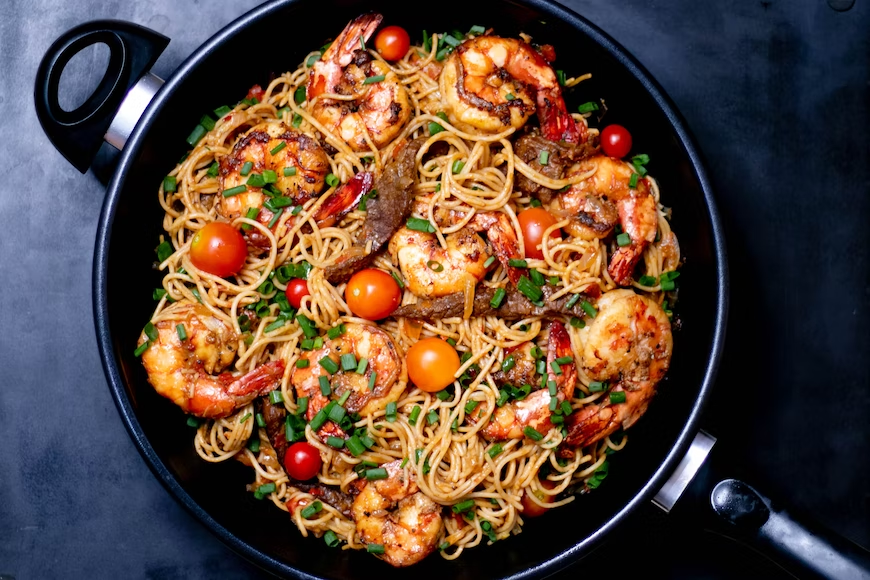 To assemble the ravioli, place spoonfuls of the filling onto one sheet of dough, then top with another sheet of dough. Use a fork to press down around each mound of filling, sealing the ravioli shut. Cut them into individual pieces and then cook them in boiling water for 3-4 minutes. Serve with your favourite sauce, and enjoy!