It's that time of the year when Malayalees all around the world can be spotted wearing traditional Kerala dresses and decorating homes with pookalam. This is because Onam, one of the most popular festivals in Kerala is just around the corner. The harvesting festival that also celebrates the homecoming of Mahaballi is incomplete without a sumptuous feast or meal called Onam sadhya.
Onam celebrations will surely be very different this year. However, different doesn't mean bad because we will still be able to celebrate the festival with our loved ones. Even though Onam will be different, there is one thing that will never change, Onam sadhya. Onam sadhya is an integral part of Onam celebrations for Malayalees. In fact, it is something we all look forward to and never want to miss out on. 
The significance of Onam sadhya to Malayalees can be explained with a popular Malayalam proverb. The proverb says " Kaanam Vittum Onam Unnanam." The proverb means that one should even be ready to sell his property to have Onam sadhya. So, as most of us are looking forward to enjoying sadhya, let us take a brief glimpse into ten popular Onam Sadhya dishes without which Onam sadhya is incomplete.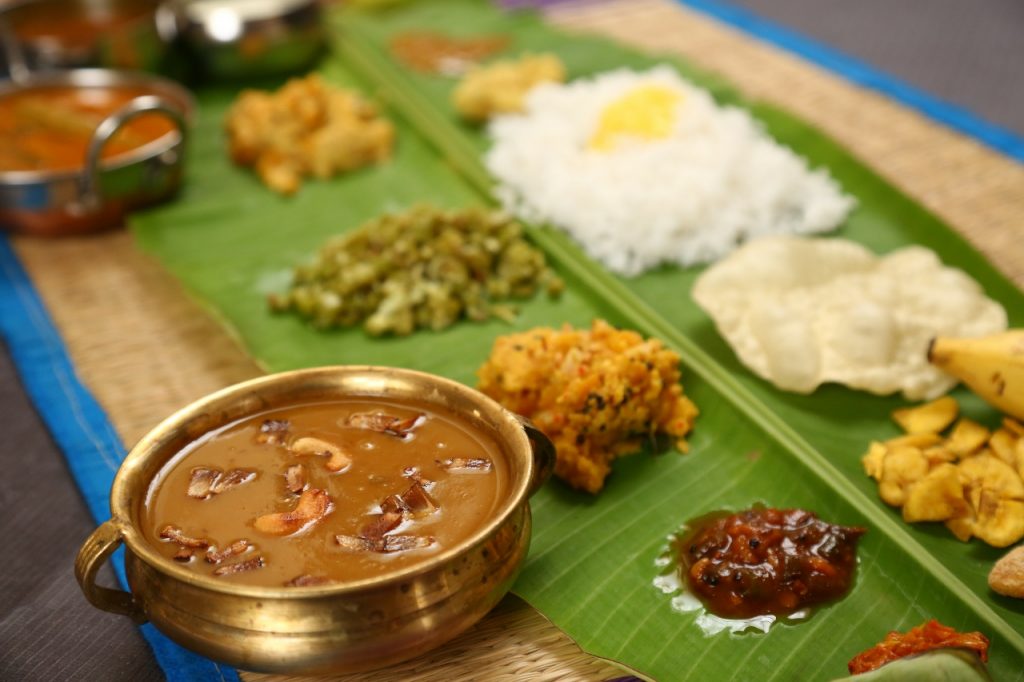 Kaaya Varuthath ( Banana Chips)
Is there anyone who doesn't love banana chips? A handful of banana chips is served first in the banana leaf along with several other dishes. You may have probably finished the chips before the entire dishes are served.
Sarkara Varatti
Sarkara Varatti is another dish that is served along with Banana chips. It is actually a sweeter and a bit harder version of Banana chips. It is an absolute delight for the ones with a sweet tooth. 
Lemon Pickle
Most Onam sadhus usually contain a pickle while some may have more than one pickle. Lemon pickle is a common dish that is seen in Onam sadhyas. Some households also include mango pickle in their Onam sadhya. 
Pulissery
Pulissery is another common dish that is served during Onam sadhya. It is prepared by using curd and different types of ingredients are added to bring out the signature sour taste. 
Avial 
Avial is among one of the popular traditional Kerala dishes and Onam sadhyas are incomplete without this delicious dish. It is prepared by using different types of vegetables that include carrot, pumpkin, drumsticks, and more.
Sambar
Another essential Onam Sadhya dish, Sambar is prepared with several vegetables. In fact, you can see that every vegetable from beans to potatoes is used by Malayalees while preparing Sambar. 
Rasam
The delicious and spicy tamarind soup, Rasam can be either enjoyed with rice or you can also try it as a soup. The irresistible aroma and taste of Rasam are sure to leave a lasting impression on you. 
Puli Inji 
Puli Inji, also known as Inji Puli is another delicious dish included in Onam sadhya. The dark brown colored and sweet, sour, & spicy curry is definitely worth a try. If you are someone who loves unique Kerala dishes, you will love Puli Inji. 
Olan 
Olan, another delicious signature Kerala dish made with ash-gourd, peas, ginger, and coconut is also a common presence in Onam sadhyas. It is a very simple and easy to prepare curry without which traditional Kerala sadhyas are incomplete. 
Payasam
Yes, we were saving the best for the very last. Payasam doesn't need any introductions. The mouth-watering and delicious dessert is undoubtedly one of the best onam sadhya dishes. Multiple varieties of payasam are often served during Onam sadhya like Palada Payasam & Paal Payasam. 
Do you know that a typical Onam sadhya contains 20+ dishes? Would you like to know more about these Onam sadhya dishes? Don't worry, we are here to help you.