The National Bread Day is celebrated on the 17th of November every year. Even though most of us include some type of bread in our daily diet, we do not know a lot about bread. For instance, it might surprise many of you when you learn that Egyptians used bread as a currency showing how important bread was for them. Another interesting piece of trivia about bread is that it doesn't have any cultural boundaries and is used in several regional ceremonies.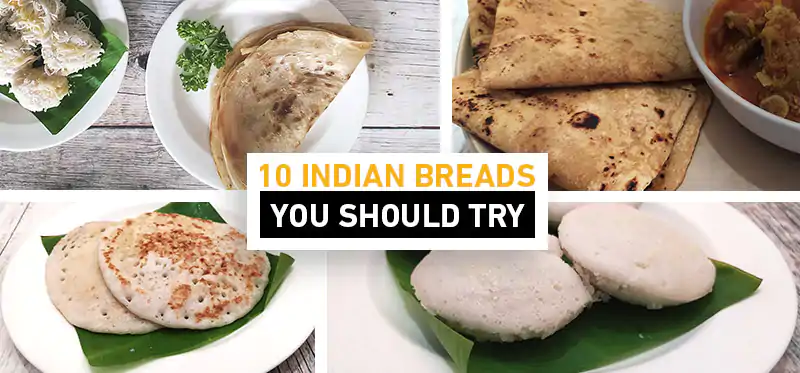 Breads are an integral part of the Indian cuisine. Different types of breads are served with famous Indian dishes, especially curries. There is a wide range of different Indian breads out there. In fact, different states or regions in the country have different baking styles and use different ingredients.
From morning breakfast to dinner, Indian breads are prepared in our homes with great passion and love. So, on this National Bread Day, let us take a brief glimpse into different varieties of Indian breads. Here are some of the popular varieties of Indian bread that everyone should try at least one.
Plain Paratha
The pan-fried plain parathas are flaky and crispy. The Indian flatbread goes really well with most of the popular Indian dishes. The name Paratha actually comes from a combination of two words, parat and atta, which means cooked layered dough. Parathas are commonly stuffed with potatoes, paneer, cauliflower, and more.
Malabar Parotta
Malabar Parotta, also known as Kerala Porotta or Porotta is a popular south Indian flatbread that is prepared with maida. Porottas are served in most of the restaurants in Kerala, Tamil Nadu, and other South Indian states. Malabar Parotta can be eaten with a wide range of different dishes that include vegetable curries, chicken curry, & other non-veg meals.
Dosa
Most south Indians love Dosa. In fact, they can't go a week without having either Dosa or Idli. Dosa is a deliciously crispy Indian bread variety that is commonly eaten for breakfast or simply as a snack. The most popular and widely loved type of Dosa would surely be Masala Dosa, a dosa rolled up with potato, spices, and onion mixture.
Chapati
As most of you are aware, Chapati is one of the most popular varieties of Indian bread in our country. In fact, people from all over the country eat chapati on a daily basis. Chapati is a delicious flatbread, which is pretty similar to an Indian roti. However, the former one is more soft and then & it is served with pickles, chutneys, and curries.
Idlis
Idli is a popular and widely loved south Indian bread that is commonly eaten for breakfast. Idlis are yummy, soft, and spongy discs that are prepared with rice flour and urad daal. It is made by steaming in a cooker, which is the main reason for the round shape of Idli. Idli is usually eaten with hot and spicy sambar or with a delicious chutney often made with coconut.
Idiyappam
Idiyappam is another Indian bread that is very common among South Indians. It is eaten as breakfast with either vegetable or non-vegetable curry. Idiyappam, which is also called noolputtu is often served with sugar, milk, and coconut in several parts of Kerala.
Naan
Here is another popular flatbread that is very common in most parts of India and has a chewy texture. Naan features a unique tear-drop shape and made with white flavour, salt, sugar, eggs, and yeast. Naan is usually served hot right from the kitchen and goes well with most Indian dishes.
Roti
Roti, the flat Indian bread that is prepared with wholemeal flour and cooked on a vessel called Tava. Several different versions of roti that includes chapathi, tandoori roti, roti canai, are part of the daily diet of several Indians. The name Roti actually stems from a Sanskrit word, which means bread.
Bhatura
Bhatura, the popular North Indian meal and can be considered as a slighter large version of Poori. The golden brown colored and deep-fried Indian bread can be served with chickpea curry, lassi, and plenty more.
Poori
The round and yummy deep-fried Indian bread, Poori is prepared with white flour. You can see that poori is usually served with bhaji with spiced potatoes for breakfast. It is an excellent combination and something you should definitely try.