Diwali is an Indian festival that most of us look forward to. It is that time of the year when most people spend quality time with friends, family, and near & dear ones. Diwali will be celebrated on 14th November this year and most of us would have probably started preparing for the festival. However, if you have not yet started preparing, it's high time that you do because Diwali is just around the corner.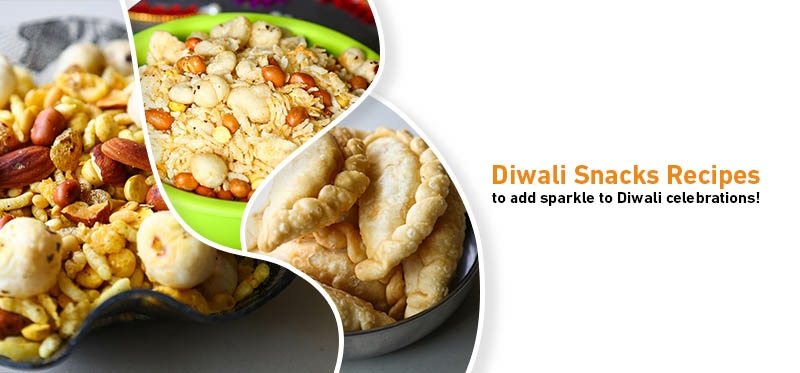 Just like most Indian festivals, food is an important part of Diwali celebrations. A wide range of Diwali snacks and Diwali sweets are prepared by families and enjoyed during the festival. There are several Diwali snacks recipes that you can easily prepare at your home with a handful of ingredients. If you are wondering where to begin, here are a few suggestions to help you get started.
Namak Pare
Namak Pare, also called as nimkin or nimki, is a crunchy Indian snack that is prepared during Diwali and other auspicious occasions. The delicious snack is prepared with refined flour, ghee, carom seeds, and cumin seeds. You can prepare Namak Pare in just 30 minutes. The texture, taste, and appearance of the snack is quite similar to samosa pastry.
Poha Chivda
If you are looking for an easy to prepare Diwali snack, Poha Chivda is an excellent option. Poha Chivda actually can be considered as a superfood. This is because the yummy Indian snack offers a wide range of health benefits to you. For instance, it is high in iron and contains sufficient amounts of healthy carbohydrates. It is also an ideal snack option for the ones who are trying to lose weight.
Mini Samosa
Mini samosa is a yummy North Indian snack that can be easily prepared with flour, roasted peanuts, and spices. These scrumptious and crunchy potato-filled snacks can be served as a finger food or starter for kitty parties or anniversaries. You can also stuff mini samosa with onion or other veg/non-veg stuffings based on your preference.
Karanji
The sweet, delicious, and deep-fried dumpling, Karanji is another Diwali snack recipe that you can easily prepare at home. It is prepared with all purpose flour or semolina and stuffed with dried nuts and sweetened khoya mixture. The preparation method of Karanji is quite similar to that of samosa. It is usually prepared during Indian festivals and other auspicious occasions.
Chakli
Chakli is a crisp, crunchy, and deep-fried spiral shaped snack, which is perfect for Diwali festival. Different varieties of this snack are available in the country and they are referred as Chakri in Gujarat while called as Murukku in South India. Chakri is made with atta, but murukku is prepared with rice flour. You can easily prepare Murukku or Chakli in less than one hour.
Ribbon Pakoda
The fried and crispy ribbon shaped snack, Ribbon Pakoda is actually a variation of murukku. This is why it is also called Ribbon Murukku. Different versions of Ribbon Pakoda can be prepared using different proportions of rice and besan flour. Sometimes, roasted gram flour is also used in the preparation of Ribbon Pakoda, which makes it crunchy and crispy.
Thattai
These deep-fried and crunchy rice crackers are an excellent choice for serving as a Diwali snack to your near and dear ones. Thattai is commonly prepared during auspicious occasions and festivals seasons like Diwali and Krishna Jayanthi. They are made with herbs, spices, and rice flour.
Mixture
Here is a popular South Indian snack that you can enjoy with your family during Diwali. Mixture is nothing but a mix of different edible ingredients, dry fruits, and nuts. In the north and western parts of India, this snack is called Chivda while in South India, it is known as mixture.
Sev
Here is another popular North Indian snack that can be prepared during Diwali. Sev is actually used as a topping in upma, poha, and chaats. But, they can also be eaten alone. You can spice and flavor Sev with ajwain or carom seeds.
Sweet Murukku
If you are craving for a sweet Diwali snack, you should definitely try Sweet Murukku. It is an easy to prepare snack that can be made with jaggery syrup and plain murukku. The crunchiness and light sweetness of Sweet Murukku is sure to leave you and your friends impressed.