The first thing that comes into your mind when you hear the word "Christmas" will be beautifully decorated trees, Santa Claus, and the delicious food. Even though Christmas is celebrated by the end of December, the preparations begin at least a month before. We can see people singing carols and exchanging gifts with their near and dear ones.
Unfortunately, Christmas celebrations will be quite different this year. But, as we always say different doesn't mean bad. You can still make the most of your celebrations by spending time with your family and by enjoying the classic Christmas dishes. What's more merrier than spending Christmas with friends and family by enjoying classic Christmas recipes.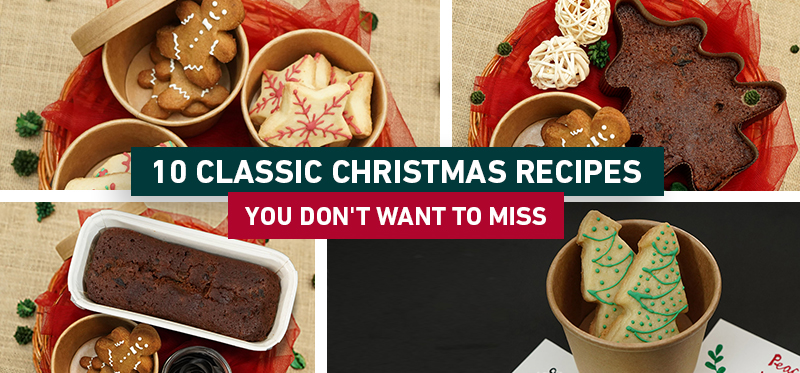 If you want to make your Christmas celebrations extra special by treating yourself with classic Christmas Recipes, we are here to help you. Here are some of the best and easy to prepare classic Christmas recipes you do not want to miss out.
Christmas Cookies
Christmas celebrations are incomplete without cakes and cookies. A wide range of cookies are prepared and served during the festive season. Most Christmas cookies are made with refined flour, sugar, and butter. If you want to add extra flavour to Christmas cookies, use honey instead of sugar for the dough.
Gingerbread Man Cookies
One of the common varieties of cookies prepared during Christmas is Gingerbread man cookies. The fresh aroma and mouth-watering taste of the dessert recipe is sure to leave you craving for more. If you want to make the cookies a bit more sweet and delicious, make sure to add chocolate to the recipe.
Plum Cake
Plum cake is the most common type of Christmas cake. It is usually prepared and served in most Indian homes that celebrate christmas. The dried fruits and plums in the cake makes it incredibly delicious. Some people start their preparation for making plum cake a month ago by soaking nuts and plums in rum.
Christmas Pudding
Another classic Christmas recipe that you shouldn't miss is pudding. The unique and yummy taste of the Christmas pudding makes everything better. It is often called plum pudding or pud, but the surprising fact is that Christmas pudding does not usually contain plums. Some families have their own Christmas pudding recipes that they pass over generations.
Dry Fruit Cake
Dry Fruit cakes become readily available in different parts of the country during the Christmas season. As the name suggests, dry fruit cakes are made by using different types of dried fruits. It can be prepared with or without using egg based on your preferences. You can also add wine or rum to make the cake even more delicious.
Christmas Pie
A wide range of Christmas pies can also be easily prepared at home with the right ingredients. Mince Pie, which is actually a dessert recipe, is one of our favorite recipes. It is filled with jellies, jams, raisins, nuts, cream, and chocolate. If you are someone with a sweet tooth, you will surely fall in love with the Mince Pie.
Christmas Cake
Christmas celebrations are incomplete without cakes. The word Christmas makes us think of the delicious taste of Christmas cakes. Christmas cakes made with dried fruits, raisins, and nuts can be found in most homes during the festive season. The flavour and taste of Christmas cakes is simply unmatched and sharing the cake with our loved ones is something we all look forward to.
Roasted Chicken
If you have celebrated Christmas, you should know that Christmas dinners are incomplete without meat recipes. It is true that traditional Christmas dinners usually have roasted turkey. However, if you are someone who doesn't eat or like the tasty or turkey, you can try roasted chicken.
Eggnog
The yummy beverage, Eggnog is another Christmas recipe you should definitely try this festive season. The main ingredients of Eggnog are egg, cream, and milk. The beverage is later flavored with nutmeg and cinnamon, which is responsible for its amazing taste. You can drink eggnog either as cold or as warm.
We understand that Christmas can be a busy time and you may not get enough time to bake a cake or prepare other classic Christmas recipes. This is why we have created a fine selection of classic Christmas recipes that includes plum cake, dry-fruit cake, and gingerbread man cookies. The homemade Christmas treats can be easily ordered online through our website.